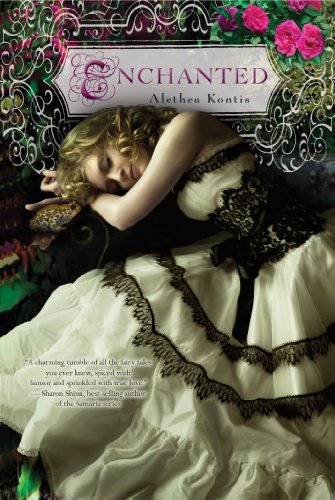 Enchanted
Alethea Kontis
305 pages
Publisher: 
Harcourt Children's Books
Release Date: May 8th, 2012
Source: ARC from Publisher
Rating: LOVED
It isn't easy being the rather overlooked and unhappy youngest sibling to sisters named for the other six days of the week. Sunday's only comfort is writing stories, although what she writes has a terrible tendency to come true.

When Sunday meets an enchanted frog who asks about her stories, the two become friends. Soon that friendship deepens into something magical. One night Sunday kisses her frog goodbye and leaves, not realizing that her love has transformed him back into Rumbold, the crown prince of Arilland—and a man Sunday's family despises.

The prince returns to his castle, intent on making Sunday fall in love with him as the man he is, not the frog he was. But Sunday is not so easy to woo. How can she feel such a strange, strong attraction for this prince she barely knows? And what twisted secrets lie hidden in his past – and hers?
   Sunday Woodcutter is doomed to a happy life. She loves escaping to the Woods and writing in her journal, her only comfort. One afternoon, Sunday escapes from her chores and sneaks out to her beloved woods where she meets Grumble, an enchanted frog, who becomes her best friend. With Grumble, Sunday can be herself. She can read her stories about her family (no one else would listen, I mean who would want to hear things all about themselves?), without him getting bored and he makes her happy. One day Sunday kisses him and leaves, not knowing that she has turned him back into Prince Rumbold, a man her family hates for former incidents. Will the two of them be together again? And live happily ever after?
   I absolutely love how Alethea Kontis put together a little bit of every classic fairy-tale. The Princess and the Frog, Jack and the Beanstalk, Cinderella, Rumpelstiltskin, The Princess and the Pea – you'll see bits and pieces of the stories you knew growing up in Alethea Kontis's latest novel. It made a nice addition to the story, and made it more interesting. Once I started reading this book I just couldn't put it down, it was super hard for me to tear my eyes away from the pages. I hope there's more, like maybe each of the siblings could have their own stories, for they're all really interesting people.
   Enchanted has made it to my very short list of favorite novels. It was undoubtedly enchanting, from the very first page. I can't wait to see what the author has in store for us next! So don't just sit there! Go get yourself a copy now!