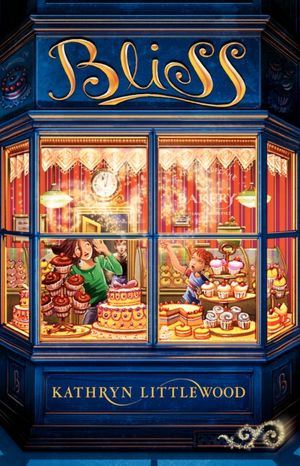 Bliss
Kathryn Littlewood
374 pages
Publisher: Katherine Tegen Books
Release Date: February 14th, 2012
Source: ARC from ALA
Rating: LOVED
Rosemary Bliss's family has a secret. It's the Bliss Cookery Booke—an ancient, leather-bound volume of enchanted recipes like Stone Sleep Snickerdoodles and Singing Gingersnaps. Rose and her siblings are supposed to keep the Cookery Booke under lock and whisk-shaped key while their parents are out of town, but then a mysterious stranger shows up. "Aunt" Lily rides a motorcycle, wears purple sequins, and whips up exotic (but delicious) dishes for dinner. Soon boring, nonmagical recipes feel like life before Aunt Lily—a lot less fun.

So Rose and her siblings experi-ment with just a couple of recipes from the forbidden Cookery Booke.A few Love Muffins and a few dozen Cookies of Truth couldn't cause too much trouble . . . could they?
  The Bliss Bakery is like no other. They have a secret. The Bliss family has a magical book, the Bliss Cookery Booke, a book that has been handed down from generation to generation – it's filled with magical recipes that must not fall into the wrong hands. Or things could get really ugly. But when her parents leave unexpectedly to help people elsewhere, the Bliss children are left alone, until Aunt Lily shows up. Mysterious Aunt Lily makes Rose feel special for once. But Rose isn't sure she can fully trust Aunt Lily.
  Bliss is like no other book I've read before. From its enchanting first page to its shocking ending. Kathryn Littlewood's debut novel has every magical recipe an awesome book needs – no pun intended. The characters are lovable and unique and the plot is unpredictable. The rich smells of the bakery wafted into my nose and the descriptions left my mouthwatering. The way Kathryn describes the story makes you feel like you're right next to Rose, watching it all unfold bit by bit. The book is filled with humor, love, and magic that I loved.
  Bliss was unbelievably good and I can't wait to find out what Kathryn Littlewood has in store for us in its sequel, A Dash of Magic!
Add BLISS to Goodreads
Find Kathryn Littlewood on Goodreads