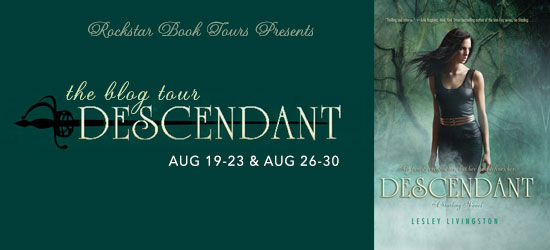 DESCENDANT
Lesley Livington
336 pages
Publisher: HarperTeen
Release Date: August 27th, 2013
Source: ARC from Publisher
Rating:
 REALLY LIKED
The last thing Mason Starling remembers is the train crossing a bridge. An explosion . . . a blinding light . . . then darkness. Now she is alone, stranded in Asgard—the realm of Norse legend—and the only way for her to get home is to find the Spear of Odin, a powerful relic left behind by vanished gods.

The Fennrys Wolf knows all about Asgard. He was once trapped there. And he'll do whatever it takes to find the girl who's stolen his heart and bring her back—even if it means a treacherous descent into the Underworld. But time is running out, and Fenn knows something Mason doesn't: If she takes up the Spear, she'll set in motion a terrible prophecy. And she won't just return to her world . . . she'll destroy it.

In this pulse-pounding sequel to Starling, Lesley Livingston delivers another electrifying blend of nonstop action and undeniable romance that will leave readers breathless.
Norse, Greek, and Egyptian mythology comes rushing back in the thrilling sequel to STARLING, which is bound to leave you hanging.
Mason Starling is stranded in Asgard. And the only way to get home is by using the Odin Spear, a powerful weapon left behind by the Norse gods. But what she doesn't know is that if she picks up the Spear of Odin, she'll set in motion the chain reaction of Ragnarok, a.k.a. the end of the world.
And Fennyrs Wolf isn't about to let that happened. Desperate to reach Mason, the girl that showed him what life really is, Fenn journeys to the Underworld. The only way for him to get back to the one place he dreads returning to.
Remember when I said STARLING didn't meet my expectations? Well DESCENDANT supplied enough awesomeness for both books. From the first page, we're thrown back into Mason's world of action, non-stop danger, and blood-lusting monsters.
I find it really cool how Lesley Livingston manages to mix up a lot of different mythologies and still make it understandable. But the story leans closer to Norse this time around, and we all know one particular Norse god who wears green and gold. Who also happens to be called the God of Mischief. Well that guy makes an appearance.
I loved the new and old characters, and still felt like kicking this one particular naive character over and over at times. This person pretty much ruins the story, and is the main reason for the not-suppose-to-happen ending. I'd give you a name, but then it would ruin STARLING and DESCENDANT.
The ending, guys, the ending. Whilst the first book's ending left us sort of hanging, I didn't really give it much thought, but DESCENDANT has a huge cliff-hanger. And now, I have to wait a full year for the third book, and trust me, after an ending like that I wish I could read Descendant for the first time, all over again when the entire trilogy is out. All in all, DESCENDANT made up for STARLING's let downs and more.
About the Author:
Lesley Livingston is a writer and actress living in Toronto. She has a master's degree in English from the University of Toronto, where she specialized in Arthurian Literature and Shakespeare. She frequently performs with the Tempest Theatre Group, of which she is a co-founder. She is also the author of WONDROUS STRANGE and DARKLIGHT.
Love how it sounds? Thanks to Rockstar Book Tours, I've got two signed sets of STARLING and DESCENDANT to giveaway! Just fill out the Rafflecopter below. Good luck!