ASYLUM is a thrill of a novel, combining historical photographs and a creepy factor that you'll have to leave the light on for. I'll tell you what I thought of the book, but first, here's an interview with the author, Madeleine Roux!
IceyBooks: Many novels are inspired by one sentence or question, was there one that sparked ASYLUM?
Madeleine Roux: The Akira Kurosawa quote "In a mad world, only the mad are sane" turns up in the book, and that line in particular was a huge jumping off point for much of what you see in ASYLUM.
IceyBooks: Do you have a favorite line that was removed from the original draft of ASYLUM?
Madeleine Roux: Not a line, but a scene. There was a part where Jordan Skyped home to his ultra conservative parents and it was veeeeeery awkward, and it's the one thing I wish was still in there. Ultimately it didn't fit with the direction Jordan's story went, but writing that scene was a blast.
IceyBooks: Tell us a little bit about your journey to signing with your agent.
Madeleine Roux:  My journey is pretty unique in the sense that I was sending out a historical fiction manuscript and all the while writing a zombie blog and posting it online. I didn't have any bites for my manuscript, but my agent, Kate McKean, found me because her brother stumbled across the blog. He told her she had to see it for herself, and the rest is history. The strangest part is that I had sent my historical fiction book to Kate's then colleague and never heard back. It still blows my mind how coincidental the whole thing was.
IceyBooks: ASYLUM features actual photographs of 'unsettling history' — was it a difficult, and emotional, task to collect these photos?
Madeleine Roux:  Finding the photos was a collaborative process, one I shared with my editor. It's always difficult to look at real people suffering, and try to find that line where you feel like you're shedding light on a piece of history and not exploiting their pain. It's not a historical or nonfiction piece, so you have to make sure you're not crossing a questionable line. I think in the end the photos we chose are haunting, they stay with you, and that's the point – to make those images stick with you long after you've finished the book.
IceyBooks: Give us one:
-Movie you can't wait to see:
Madeleine Roux:  The new Star Wars movies. I will be that person in line for days before, living in a tent and petting my memorabilia collection like Gollum.
IceyBooks: Snacks you're craving right now:
Madeleine Roux:  Pho. Some noodles sound amazing right about now.
IceyBooks: Books you can't wait to read:
Madeleine Roux: I've got Ian McEwan's latest, Sweet Tooth, taunting me from my Kindle, but I've been too busy to dive in.
About the Author:
MADELEINE ROUX received her BA in Creative Writing and Acting from Beloit College in 2008. In the spring of 2009, Madeleine completed an Honors Term at Beloit College, proposing, writing and presenting a full-length historical fiction novel. Shortly after, she began the experimental fiction blog Allison Hewitt Is Trapped. Allison Hewitt Is Trapped quickly spread throughout the blogosphere, bringing a unique serial fiction experience to readers.

Born in Minnesota, she now lives and works in Louisiana.
Find Madeleine on: Goodreads | Website | Twitter
Add ASYLUM to Goodreads
BUY THE BOOK
The Review:
For sixteen-year-old Dan Crawford, New Hampshire College Prep is more than a summer program—it's a lifeline. An outcast at his high school, Dan is excited to finally make some friends in his last summer before college. But when he arrives at the program, Dan learns that his dorm for the summer used to be a sanatorium, more commonly known as an asylum. And not just any asylum—a last resort for the criminally insane.

As Dan and his new friends, Abby and Jordan, explore the hidden recesses of their creepy summer home, they soon discover it's no coincidence that the three of them ended up here. Because the asylum holds the key to a terrifying past. And there are some secrets that refuse to stay buried.

Featuring found photos of unsettling history and real abandoned asylums and filled with chilling mystery and page-turning suspense, Madeleine Roux's teen debut, Asylum, is a horror story that treads the line between genius and insanity.
When I first glanced at the cover for ASYLUM, shivers ran up my spine. Clearly, the designers at HarperTeen know what they're doing — despite the cheesy 'tagline', if we can call it a tagline. The inside was just as creepy – with photographs Madeleine Roux used to spin the story around and typography that complemented everything perfectly.
But no matter how great a book's exterior may be, the words are all that matter. Thankfully, Madeleine Roux's writing was rich with a 'historical feel', for lack of a better term. I loved it. And while I found it a tad difficult to connect with Dan and the other characters – they just didn't feel real, I was able to enjoy the plot with it's slowly rising tension. And because of its cover, I expected to be spooked every time I turned the page.
It's hard to describe what the book is about without giving away the plot – because really, you need to read this book without knowing anything, for the ultimate creepy factor. Despite the character issue I had, the plot was able to keep me hooked throughout the story. With nightmares, unexpected occurrences, and of course, sudden disappearances, I'd say give ASYLUM a shot. I didn't love it, but I sure did enjoy it.
Pitch Dark Days Tour + Giveaway:
Get ready for the Pitch Dark Days tour and enter the giveaway! Thanks to the lovely people at HarperTeen, I have a copy of ASYLUM for one lucky US winner. Just fill out the Rafflecopter below. Good luck!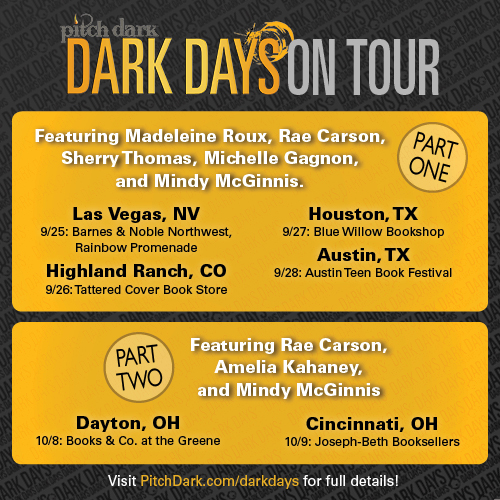 And visit the other Pitch Dark Days bloggers to learn more about the other books!
8/19: ASYLUM at IceyBooks
8/26: THE BITTER KINGDOM at Good Books and Good Wine
9/2: DON'T LOOK NOW at A Life Bound by Books
9/8: NOT A DROP TO DRINK at The Broke and the Bookish
9/16: THE BURNING SKY at A Book and a Latte
10/7: THE BROKENHEARTED at Tales of the Ravenous Reader