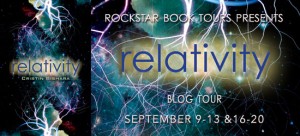 We're excited to be on the RELATIVITY blog tour hosted by Rockstar Book Tours! Today, we have an interview with the author, Cristin Bishara as well as TWO giveaways! Read on!
IceyBooks: Pitch your novel, RELATIVITY, in a tweet.
Cristin Bishara:
Ten parallel universes. One perfect world. What would you be willing to risk in order to find it?
IceyBooks:  RELATIVITY is a sci-fi novel – what made you decide to write sci-fi? Did it come naturally?
Cristin Bishara:When I started writing RELATIVITY, I didn't have the specific intention of writing a sci-fi novel. Actually, one of my initial inspirations was art. There's a painting I love called "La voix du sang" by René Magritte. It's a tree with two open doors in the trunk. Inside one is a house; inside the other is a sphere. Intriguing! I kept wondering what else could be inside a tree.
Then I watched Brian Greene's "The Elegant Universe" series on NOVA, and learned a little about string theory and the science behind parallel universes. I was an English major, and my M.F.A. is in poetry, so the nitty-gritty of string theory is over my head. But I understood enough to snag it as a plot-driving element.
IceyBooks: Do you have a favorite line that was removed from the original draft of RELATIVITY?
Cristin Bishara: I'm one of those authors who writes really lean manuscripts, so for me it was a matter of adding words, rather than subtracting. But I can tell you, I *did* delete all the F-bombs.
IceyBooks:  Can you tell us a little bit about your journey to getting RELATIVITY published?
Cristin Bishara:It took me a long time to figure out what I wanted to write. I tried poetry, short stories, screenplays, picture books, you name it. I wrote magazine articles (one was about ceiling fans, no joke), as well as copy for corporate brochures and newsletters. When I finally finished a complete draft of RELATIVITY (which at the time was called "The Invisible World," named after another of Magritte's paintings), I knew I'd found my sweet spot. I love the combination of mystery, romance, and sci-fi. It took more than 30 queries, and about 15 months before I signed with my agent, Minju Chang at BookStop Literary.
IceyBooks: Give us the three:
-Favorite colors:
Cristin Bishara: This is supposed to be a three-word answer, right? Sorry, but I'm one of those people who could come up with color names for Sherwin Williams or Crayola or L'Oreal. At one time, I did a lot of graphic design work, so I was constantly flipping through Pantone books, too. I love anything that falls between green and blue. Think of peacock feathers and you can pick any three colors from there. 
IceyBooks: Snack you're craving right now:
Cristin Bishara:
1) Jalapeño poppers
2) Homemade hummus
3) A piece of my mom's chocolate cake
IceyBooks: Marvel Superheroes you love:
Cristin Bishara:
1)The Invisible Woman
2) Professor X
3) Captain America!
About the Author
Before publishing Relativity, Cristin Bishara worked as a professional copywriter, and taught composition and fiction writing at the university level. She has an M.F.A. in creative writing. Cristin lives in Florida with her husband, two girls, and rescued racing greyhound.
Find Cristin on: Goodreads | Website | Twitter
Add RELATIVITY to Goodreads
If Ruby Wright could have her way, her dad would never have met and married her stepmother Willow, her best friend George would be more than a friend, and her mom would still be alive. Ruby knows wishes can't come true; some things just can't be undone. Then she discovers a tree in the middle of an Ohio cornfield with a wormhole to nine alternative realities.

Suddenly, Ruby can access completely different realities, each containing variations of her life—if things had gone differently at key moments. The windshield wiper missing her mother's throat…her big brother surviving his ill-fated birth…her father never having met Willow. Her ideal world—one with everything and everyone she wants most—could be within reach. But is there such a thing as a perfect world? What is Ruby willing to give up to find out?
The Giveaways
And now for the TWO giveaways! Three lucky US residents will win a SIGNED hardcover copy of RELATIVITY. Just enter the Rafflecopter below. Good luck!
Wait! There's more! We have a BONUS secret giveaway that you can win too! Just follow the easy steps in the infographic below! Here's a link to the Facebook page.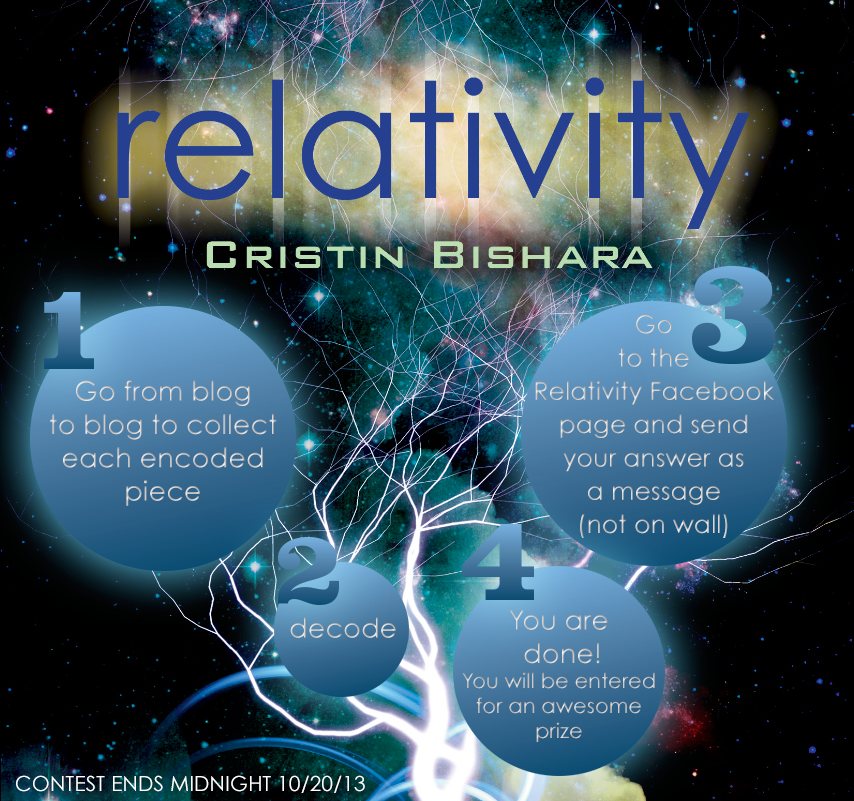 YOUR CODE WORD:

The Full Tour Schedule
Week One
Sept. 9th – Seeing Night Reviews – Guest Post + Review
Sept. 10th – Two Chicks on Books – Guest Post
Sept. 11th – Parajunkee – Interview
Sept. 11th – Working for the Mandroid – Review
Sept. 12th – Fic Fare – Interview
Sept. 13th – The Bookshelf Sophisticate – Guest Post
Week Two
Sept. 16th – Fiktshun – Guest Post
Sept. 17th – Imaginary Reads – Interview
Sept. 18th – Magical Urban Fantasy Reads – Interview
Sept. 18th – IceyBooks – Interview
Sept. 19th – The Book Monsters – Interview
Sept. 20th – Readers In Wonderland – Review
Sept. 20th – [B.O.O.K.L.I.F.E.] – Interview