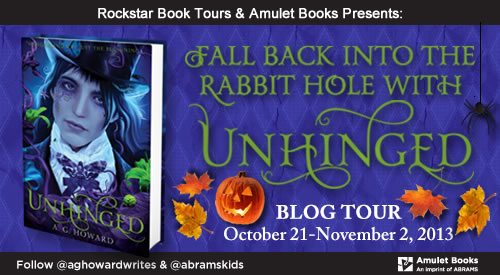 Welcome to stop #4…
Sadly, today's post was stolen. But you can help us bring the thief to justice.
One of Morpheus's little spritelings, Roseblossom, was scheduled to team up with the Door Mouse to discuss gothic tea parties, Halloween style. They were so in the spirit, the Door Mouse traded his doorman's jacket for a dragon suit, and Rosebossom covered her glistening scales with a witch's costume.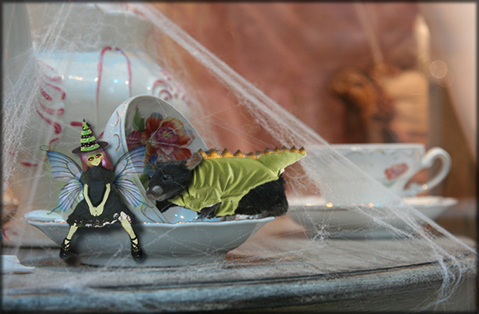 Together, they gathered clips of pictures, recipes, and party suggestions so you would have everything at your fingertips for dark Wonderland fun. They laid them out on a table, planning to make a scrapbook for the presentation: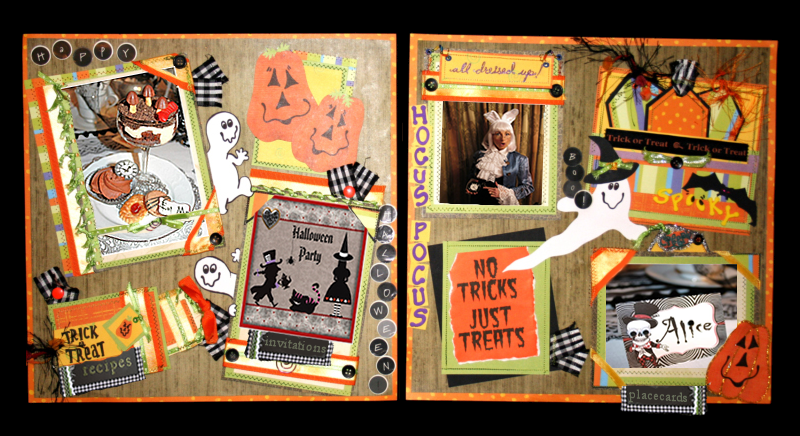 They left the room only long enough to have afternoon tea with Hattington and March Hairless. But when they returned, every picture, recipe, and party suggestion had been stolen:
So, who's the culprit? It's someone who plays a small part in Splintered, but has a much bigger role in Unhinged. The thief left two clues behind. If you think you know what the clues are, and who stole the Halloween tea party post, leave your guesses in the Rafflecopter below (please don't leave it in the comments or everyone will see your answer).
A winner will be drawn from the correct answers, and that person's first name will appear as a minor character in the upcoming Splintered book 3, Ensnared. Also, the winner's full name will be added to the book's acknowledgements for posterity.
Don't forget to enter the other Rafflecopter, as well, for a chance to win one of 12 UNHINGED ARCs.
And, for anyone interested in the stolen party information, we did some online surfing and found reasonable facsimilies which will make your Halloween tea party a night to remember: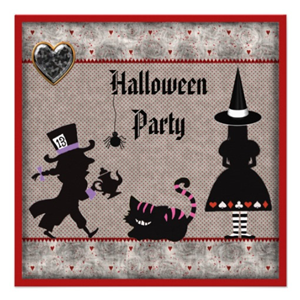 Invitations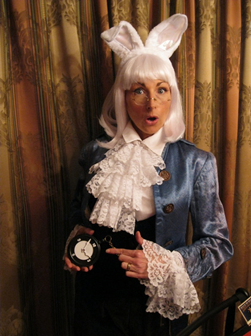 Homemade costume examples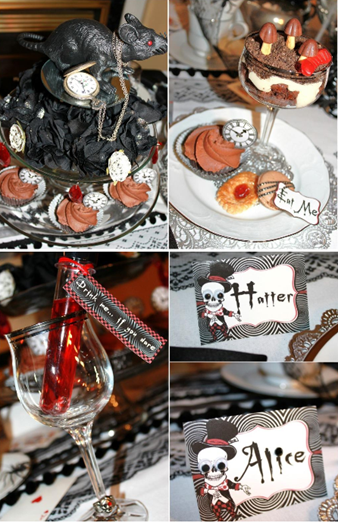 Gruesome Wonderland tea party goodies
If you'd like some Splintered-themed party ideas, the book's official Pinterest page has a board just for you.
Join us tomorrow on the fifth stop when Alyssa's mom and dad list their five favorite scary, romantic tales. Hope you can stop by!
About the Book
Alyssa Gardner has been down the rabbit hole and faced the bandersnatch. She saved the life of Jeb, the guy she loves, and escaped the machinations of the disturbingly seductive Morpheus and the vindictive Queen Red. Now all she has to do is graduate high school and make it through prom so she can attend the prestigious art school in London she's always dreamed of.

That would be easier without her mother, freshly released from an asylum, acting overly protective and suspicious. And it would be much simpler if the mysterious Morpheus didn't show up for school one day to tempt her with another dangerous quest in the dark, challenging Wonderland—where she (partly) belongs.

As prom and graduation creep closer, Alyssa juggles Morpheus's unsettling presence in her real world with trying to tell Jeb the truth about a past he's forgotten. Glimpses of Wonderland start to bleed through her art and into her world in very disturbing ways, and Morpheus warns that Queen Red won't be far behind.

If Alyssa stays in the human realm, she could endanger Jeb, her parents, and everyone she loves. But if she steps through the rabbit hole again, she'll face a deadly battle that could cost more than just her head.
About the Author
A.G. Howard was inspired to write SPLINTERED while working at a school library. Her pastimes are reading, rollerblading, gardening, and family vacations which often include impromptu side trips to 18th century graveyards or condemned schoolhouses to appease her overactive muse.

Her debut YA fantasy, SPLINTERED, a dark Alice in Wonderland spinoff, is now available from Amulet Books. The sequel, UNHINGED, is due to launch January 2014.
Around the Web