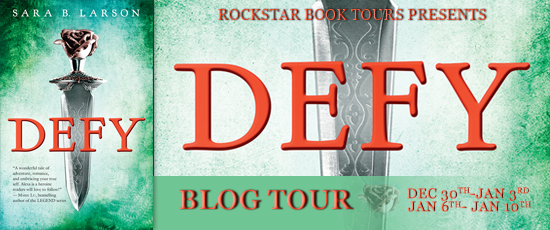 Today, I'm excited to share with you Sara B. Larson's Journey to Publication. Sara's debut, DEFY, releases on January 7th, and sounds pretty good. Here at IceyBooks, we're excited to start reading!
A lush and gorgeously written debut, packed with action, intrigue, and heart-racing romance.

Alexa Hollen is a fighter. Forced to disguise herself as a boy and serve in the king's army, Alex uses her quick wit and fierce sword-fighting skills to earn a spot on the elite prince's guard. But when a powerful sorcerer sneaks into the palace in the dead of night, even Alex, who is virtually unbeatable, can't prevent him from abducting her, her fellow guard and friend Rylan, and Prince Damian, taking them through the treacherous wilds of the jungle and deep into enemy territory.

The longer Alex is held captive with both Rylan and the prince, the more she realizes that she is not the only one who has been keeping dangerous secrets. And suddenly, after her own secret is revealed, Alex finds herself confronted with two men vying for her heart: the safe and steady Rylan, who has always cared for her, and the dark, intriguing Damian. With hidden foes lurking around every corner, is Alex strong enough to save herself and the kingdom she's sworn to protect?
Thank you for having me on your blog today!
So today I'm going to talk a little bit about my journey to publication. I had a long road to get to where I am now. I've written my whole life (and have the notebooks from second and third grade with the stories in them to prove it!) and I've always dreamed of being an author. But I didn't start to actively try and get published until my oldest son was about nine or ten months old. (He's 8 ½ now, to put my journey into perspective!) I've been in the query trenches twice, and both times it was AWFUL. I mean, let's just be honest here, they don't call it Query Hell for nothing. It's so hard to get rejection after rejection. Between both times, I'm sure I have well over 200 rejections. (I stopped counting after fifty or sixty the first time.) But my advice would be to never give up and to never stop writing. I learned the hard way that once you have one book out for querying, you need to start writing a NEW (aka different) book, just in case. I queried my first book for over two years, and wrote the sequel and part of the third book in the meantime. Yikes, right? I finally moved on to a new book story and that's when I got my first agent. After we parted ways, I queried three more books. I had one ready when we parted ways, and I wrote two more while that one was out. I signed with Josh Adams on the third book, which became DEFY.
With DEFY, things went differently than they ever had before. I started querying on Monday, with about fifteen queries. (All cold queries, by the way.) Then on Tuesday night, I saw that an agent I liked had just re-opened to queries. I sent one off, and was shocked to get a full request ten minutes later. And even more shocked to get an email the next day before lunch, asking to talk to me about the book! I ended up receiving more than one offer. It was the situation we all dream about, right? But it ended up being harder to choose than I thought it would be. However, when I talked to Josh on the phone he blew me away with his business savvy, experience, and enthusiasm. I had notes front and back on my paper, and sidewise up the side. I knew that he was the right agent for me. And he's become a good friend, too, so I feel very lucky and blessed. He sold my book, DEFY, to Lisa Sandell at Scholastic a month later, and it's been a dream working with her as well. It was just a huge testament to me that if you don't give up, eventually you will write the right book at the right time. And in the end, even though it was a hard road to get here, I would do it all again to get to work with Josh and Lisa. I couldn't be happier!
Thank you for having me here today and I hope you all enjoy DEFY!
Sara loves writing, reading, and dessert–but the order varies by the day. She wrote her first book in second grade about a woman who had a premature baby, complete with a "to scale" drawing of the baby's size–while her mom was pregnant. To say she was a bit precocious is putting it lightly. Now that she's an adult, she writes books for teens that have magic and romance and kick-butt girls (and very few premature babies). She lives in Utah with her husband, two young sons and baby girl. She writes during naptime and the hours when most people are sleeping. Her husband claims that she should have a degree in "the art of multitasking." On occasion you will find her hiding in a bubble bath with a book and some Swedish Fish. she is represented by Josh Adams of Adams Literary and her YA debut DEFY is coming January '14 from Scholastic!
Thanks to Sara, we've got 5 signed copies of DEFY to give away, along with 3 audiobook downloads!
a Rafflecopter giveaway
Find Sara on her Website | Twitter | Facebook | Goodreads
Add DEFY to Goodreads
Buy DEFY on Amazon