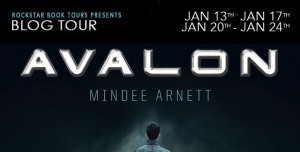 We're thrilled to be on the blog tour for Mindee Arnett, and her latest book, AVALON, hosted by the amazing duo over at Rockstar Book Tours. Avalon hits shelves on January 21st with its hot cover from HarperTeen. Here at IceyBooks, we're excited to start reading!
IceyBooks: AVALON is your second series. Can you tell us a little bit about how it differs from your debut, THE NIGHTMARE AFFAIR?
Mindee Arnett:
Sure. On a surface level the two series seem about as different as night and day. The Nightmare Affair is a contemporary fantasy/paranormal with a female protagonist, and it's written in the first person point of view. Avalon, on the other hand, is a sci-fi thriller with a male protagonist, and it's written in the third person limited. Structure wise, TNA is a fairly standard mystery and detective story, albeit with magic. Avalon on the other hand is an adventure and a bit of a pot-boiler Things start out rough for Jeth and his crew and just get worse from there.
However, that said I think there are a lot of similarities between the two series. There's some humor and snarky dialogue in both, and lots of action. Avalon has a darker tone, but it has plenty of the same fun that exists in TNA woven through it, too.
IceyBooks: Many novels are inspired by one sentence or question, was there one that sparked AVALON?
Mindee Arnett: There wasn't a specific spark, other than my love and despair over the way Firefly ended. But there was a catalytic moment—the first time I heard someone discuss the ideas about dimensions contained in the book Flatland. To be honest, I've never read the book, but the discussion alone was enough to set my mind on fire with ideas for my little sci-fi book.
IceyBooks: What were your first thoughts when you saw the cover for your debut?
Mindee Arnett: The cover is perfect. The cover designer, Jenn Rush, actually posted this picture on Twitter, and the minute I saw it, I knew I had to have it. The girl is exactly how I pictured Jenna. I messaged my editor, who had already seen it and thought the same thing, and all of a sudden, we had a cover.

IceyBooks: Do you have a favorite line that was removed from the original draft of AVALON?
Mindee Arnett: Sadly no. The only real change that had any impact was that the ship in the story was originally called Eden, but we changed it to Avalon during edits. It took me a while to get used to but now I love the change.
IceyBooks: Say AVALON is being adapted to a movie – who would portray your main character?
Mindee Arnett: Well, the plan is for the Doctor to fly the TARDIS back in the time, kidnap a young Nathan Fillion, and then bring him forward in time…just kidding. The true answer is I'm not sure. Jeth is so near and dear to my heart, I have a hard imagining anyone playing him.
IceyBooks: Give us the three:
Movies you can't wait to see:
Mindee Arnett:
Captain America: The Winter Soldier
Jupiter Rising
Interstellar 
IceyBooks: Random facts about you
Mindee Arnett:
If I'd been born a boy, my name would've been James Martin Gaver III
I'm really glad I was born a girl. Girls rule. Go girl power.
My daughter is named after a character in Firefly (Inara)
IceyBooks: Books you can't wait to read:
Mindee Arnett:
Dreams of Gods and Monsters by Laini Taylor
Ruin and Rising by Leigh Bardugo
The Raven Cycle Book 3 by Maggie Stiefvater
Mindee Arnett lives on a horse farm in Ohio with her husband, two kids, a couple of dogs, and an inappropriate number of cats. She's addicted to jumping horses and telling tales of magic, the macabre, and outer space. She has far more dreams than nightmares.
Thanks to Mindee, we've got 2 SIGNED copies of AVALON to give away!
a Rafflecopter giveaway
Find Mindee on her Website | Twitter | Facebook | Goodreads
Add AVALON to Goodreads | Buy AVALON on Amazon