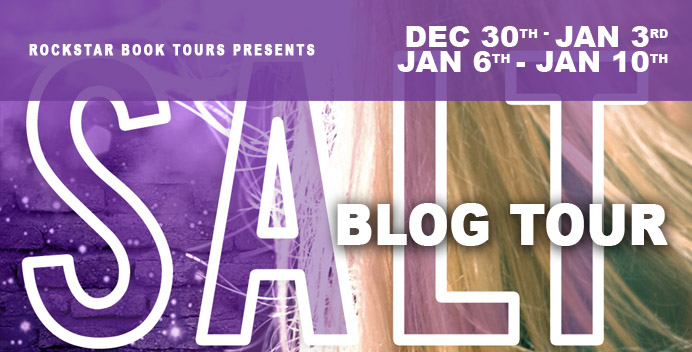 Today, I'm excited to share with you Danielle Ellison's Journey to Publication. Danielle's debut, SALT, releases on January 7th, and sounds pretty good. Here at IceyBooks, we're excited to start reading!
Penelope is a witch, part of a secret society protecting humans from demon attacks. But when she was a child, a demon killed her parents—and stole her magic. Since then, she's been pretending to be something she's not, using her sister's magic to hide her own loss, to prevent being sent away.

When she's finally given the chance to join the elite demon-hunting force, Penelope thinks that will finally change. With her sister's help, she can squeeze through the tests and get access to the information she needs to find "her" demon. To take back what was stolen.

Then she meets Carter. He's cute, smart, and she can borrow his magic, too. He knows her secret—but he also has one of his own.

Suddenly, Penelope's impossible quest becomes far more complicated. Because Carter's not telling her everything, and it's starting to seem like the demons have their own agenda…and they're far too interested in her.
My journey to publication has been a pretty interesting one. It's not been linear or "normal" and I think that part makes it unique and a little perfect.
I decided to write my first book after college. I'd always been a writer—fanfiction, short stories, plays, skits, poems, everything—and I loved writing. But I'd never tackled a book. During that time, I'd just fallen into YA books and I decided that would be my first attempt. So I wrote the first book in Spring 2010—and now that book lives in a closet. It will never see the light of day, but I learned more from that first one than I thought possible.
A year or so later, it was August 2010, I started writing Follow Me Through Darkness. Back then it had a different name, but I finished that first draft in record time, and queried. Everything came back positive, overall, but saying I needed to revise. So I did that—for two years. During that time I started (and dropped out of) graduate school, rewrote that book over and over, and worked to make myself better. Eventually, I queried the new draft to agents and small presses. It was during this time that I wrote SALT.
SALT was a completely different experience than FTMD. It was fresh and fun, and sometimes we need that as writers. I wrote about half of the book before I started over. I wrote the whole draft (after the re-start) in four months, then revised, and then I queried. I had positive responses to SALT, but they were all passes because of market changes—which was the same thing agents said about FMTD. They didn't think SALT would work, so I thought maybe they were right—and I could be okay with that, and move on to other things.
Then my friend, who loved SALT and who'd been a beta for my stuff before, told me I should submit to Entangled. After some debate, I did, (that was August 2012) and while I waited, I worked on something new. During this time, I sold the whole FMTD trilogy and I was pretty excited. It was just the first step.
On Halloween, I got an offer for publication from Entangled for SALT. Right after Thanksgiving, I spoke with Liz about my book and the new digital line; after the New Year, we announced the deal. Suddenly I went from having no books to having five books coming out. I got my agent after the book deals with my next novel only a few months ago.
There were times in all the querying (which I did three different times before I got a deal, and four before I got an agent over approx. four years) where I thought it would never happen. None of it. Then it did happen—and it was all at once in a backwards order, especially because they are coming out opposite of how I sold them. I spent my time thinking it would be an agent, and then a book deal, but it wasn't. It was a book deal, another deal and then an agent.
Every publication journey is different, and I know that I'm lucky for the way mine worked out. It may be hard to imagine, but my journey is really just starting. I can't wait to see what other fun and exciting (and crazy) things are ahead. I hope that all of you journey with me.
Danielle Ellison is from a small town in West Virginia. She spent her childhood pretending to fly and talking to imaginary friends. When she grew up, she finally flew away (in an airplane) and started traveling the world. She hasn't stopped yet, but someday she may decide to settle in one place. Her real life friends would definitely like that; they would probably also like if she stopped talking to her characters out loud.

SALT comes out in August 2013, and then it's sequel. In October 2014, FOLLOW ME THROUGH DARKNESS (book one of the BOUNDLESS Trilogy) comes out. She's got a busy few years!
Thanks to Danielle, we've got 3 e-copies of SALT to give away, along with 1 salt necklace!
a Rafflecopter giveaway
Find Danielle on her Website | Twitter | Facebook | Goodreads
Add SALT to Goodreads | Buy SALT on Amazon