FATES
Lanie Bross
336 pages
Publisher: Random House
Release Date: February 11th, 2014
Source: Hardcover from Publisher
Rating: LIKED
One moment. One foolish desire. One mistake. And Corinthe lost everything.

She fell from her tranquil life in Pyralis Terra and found herself exiled to the human world. Her punishment? To make sure people's fates unfold according to plan. Now, years later, Corinthe has one last assignment: kill Lucas Kaller. His death will be her ticket home.

But for the first time, Corinthe feels a tingle of doubt. It begins as a lump in her throat, then grows toward her heart, and suddenly she feels like she is falling all over again–this time for a boy she knows she can never have. Because it is written: one of them must live, and one of them must die. In a universe where every moment, every second, every fate has already been decided, where does love fit in?
Corinthe is an exiled Fate, and must now play the part of an Executor, meant to fulfill destinies. But now, ten years later, Corinthe has been given her last assignment, one that will allow her to return home to her peaceful life in Pyralis.
Her assignment? Kill Lucas Kaller. It should be fairly easy, but soon Corinthe's doubts begin to surface. And she begins to question her existence and purpose.
Wow. That ending was… something. Different and sad and hopeful and cliff-hangery.
Now onto ze review. FATES was a novel that started off slow and was confusing with all of these unknown terms, that were thankfully explained later on in the story. But as soon as we learned the main concept things picked up, our characters were thrown into different worlds, the action happened more often, and the places were interesting.
But if there's one thing Lanie Bross excels at, it's details. FATES is a novel with alternate universe's and Lanie Bross descriptive writing made it easy for me to visualize. And the world's were all interesting and unique.
One of my problems with FATES was the insta-love, although there was a lot of stuff that took the mind off the love, it was still annoying, especially in the beginning. Another thing I didn't like was how clueless Corinthe was about some specific things.
At the start it was hard for me to like Corinthe, but by the time I turned the last page I really missed her. Lucas, on the other hand, isn't your typical male protagonist. He's everything but mysterious and dark, yet he was still a likeable character.
Told from three different points of view, FATES gives us a different perspective from the three characters. It wasn't confusing, like a few books I've read where I can't remember who's who.
Although it took me sometime to actually feel anything for the characters, FATES is a novel I ended up enjoying and can't wait for the second book!
About the Author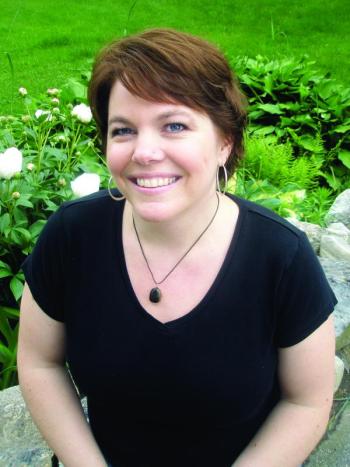 Lanie Bross was born in a small town in Maine, where she spent the next 18 years dreaming of bigger places. After exploring city life, she and her husband and two young sons ended up coming right back to the wilds of Maine where they now live just one house down from where she grew up. Fate, perhaps? She loves chasing around her rambunctious kids, playing tug-o-war with her 95 pound Lab, and writing for Young Adults. Fates is her first novel.
The Giveaway