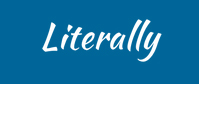 Three weeks ago, chatter about Literally flooded my Twitter stream with equal parts excitement and curiosity. I was of the latter group, and I quickly did some research and found all I could.
1. It was founded by a book blogger and her husband.
2. It's still in beta and membership is by-invitation only.
Number two won me over. I love beta sites. I love being an early user who gets to watch things grow.
Speaking of growing, could Literally.io be the next Goodreads?
No.
I've been a user for little over two weeks and from what I've learned, it's different from Goodreads. And I love that it is.
1. While Goodreads is a public way to keep track of your books and reading progress, Literally is a more private method. You can post your updates to Twitter, but you can't leave comments on fellow Literally profiles, or post status updates like you can on Goodreads (I think that's in the works, though!).

2. Update your reading progress on Wednesday and you'll get a Hump Day badge. Or Valentine's Day. Literally awards badges for different tasks. It's a clever way to keep users checking in nearly every day, but also fun. And something Goodreads doesn't have. The badges are what I love most about Literally.io.
In short, Goodreads is a social media network. Literally is a… personal app. You have friends, but there's nothing special about having them as interaction on site is pretty much impossible.
That isn't an issue for me, of course. I like the calmness of it all. Goodreads can stay that way, and Literally can stay the way it is.
That said, there are still some changes I'd like to see on Literally.io.
1. Literally advertises itself as an app. It would be nice to get an actual mobile application for my android phone. I've heard it's in the works, but I don't know for sure.
2. Literally's design is bland. As a designer myself, it gives me an itch everytime I visit. Their logo could use some sprucing up, but their simple blue header area gave me an idea. What if users had the ability to choose a color/pattern from a palette (a la www.colourlovers.com)? I wouldn't say upload, because that opens up the risk of inappropriate content on a relatively new site.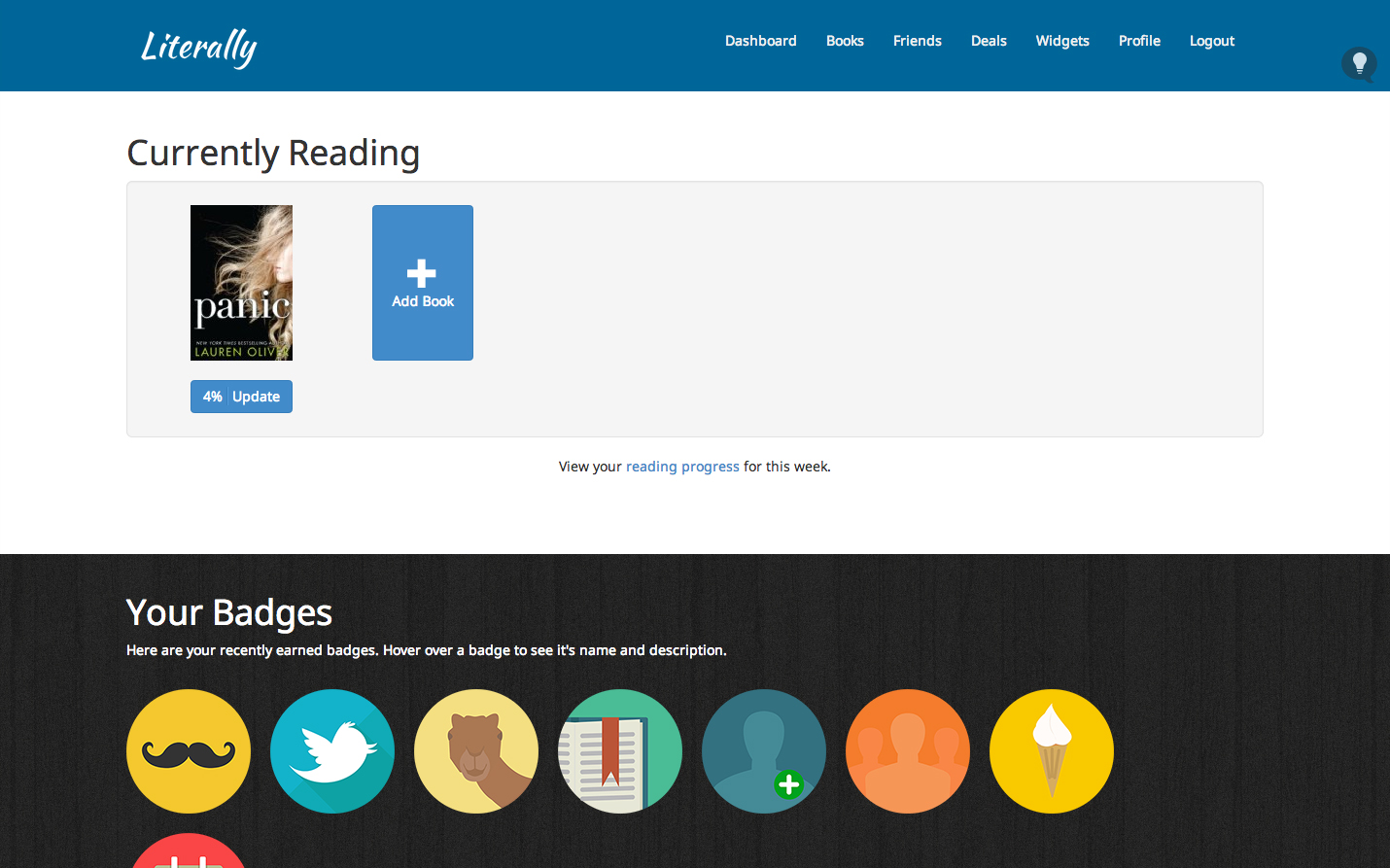 3. Reviews. One big difference between Goodreads and Literally is that you can't leave a review on Literally once you've completed the book. But I like that. Sort of. It would be neat if Literally could limit it to a blurb instead. Perhaps a 400-word limit review or similar.
4. Goodreads allows you to set a yearly reading goal and automatically keeps track of it as you update your read books. I'd like Literally to take it a step further. Allow us (especially book bloggers) the ability to keep track of other challenges, like the Debut Author Challenge and the Standalone Reading Challenge. I know I'd love it.
I'm told there's more in store for Literally. There are several promises Literally makes on their home page that still aren't available for users yet, such as "battle with friends" and a way to "save money on books".
All in all, Literally is an exciting new site to keep an eye on. It's a little boring, but I love earning badges, and I'm the type of person who doesn't usually care for them. But on Literally, they look great (I crave good graphics), and you never know what little action might earn you one!