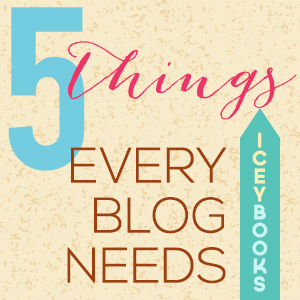 These days, nearly everyone and their grandma has a blog. Whether it's about cooking, movies, crafting, or something we're more familiar with, books, there's a blog about it. While blogs are well-known and well-used, there are certain elements every blog must have—and sadly, not every blog has.
Heads Up!
A header is the first thing a visitor sees when they stumble upon your site. It needs to be catchy, easy on the eyes, and more than anything, tell your visitor where they are. Your header image, even if it's just simple text, needs to reinstate your domain address. It wouldn't be consistent if my domain was www.iceybooks.com and my blog name: Hafsah, the Girl. Right? Right.
Follow the map.
Every blog needs navigation. The essentials depends on what your blog is centered on, but a blog should at least have the following: Home, About, Archives (Reviews, if you're a book blogger, or Recipes, if you're a food blogger), and Contact. Having easy to find and understand navigation makes a reader more likely to click on them. And feel at ease—enough to come back again. No one likes coming back to a place where they don't feel comfortable, or where they feel like they don't know what they're doing.
Get social.
A blog isn't a successful blog without a marketing team. Your marketing team doesn't have to consist of people. Instead, build your marketing team with tools. Namely, Twitter, Facebook, LinkedIn, Goodreads, etc. Those are your marketing tools. They're free, so why not use them? But just having them isn't enough. You need to have links right up front and easy to see on your blog. No one likes to go hunting for information. Particularly publicists, agents, and those people who aren't stopping by for leisure, but for business.
Eye candy.
Humans are visual creatures. Having a design that's easy on the eyes will ensure your one-time visitor becomes a regular. Uncluttered sidebars are a must, and I typically prefer to go with one sidebar, rather than two. Choose whatever color you'd like for your design, but always have a nice, solid color, or minimal texture as a background for your content, along with a text color that compliments it. Purple background? Don't use yellow text.
Commenting.
There are a number of comment/discussion plugins available on the internet. Some of them—most of them—are annoying. Using Blogger's own system, and WordPress's own system works just fine. It's easy, does what it's supposed to, and doesn't have too many fancy schmancy elements, which you don't need. People want to comment, nothing else. If a comment system requires me to go through spam filters, or reads like a form, I'll usually just click out. There are thousands of blogs out there, don't get lost in the crowd.
You don't exactly need word verification either. If you take your blog seriously, you can weed out the spam every time you login. And if you login everyday, it will probably take you no more than ten minutes. Besides, Blogger combats spam, and WordPress has several plugins (namely Akismet) that automatically filters spam comments. If they can make your life easier, pay it forward and make your visitors' lives easier, too. Disable your spam filter and watch your comment number increase.
Conclusion
There you have it! They've very easy, and very much essential. Does your blog have them all?