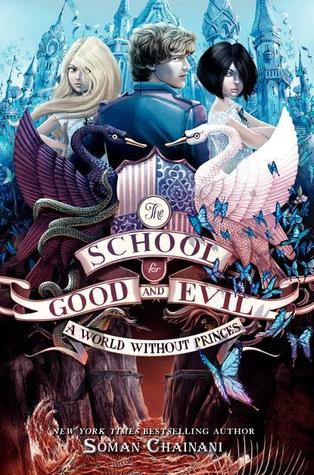 A WORLD WITHOUT PRINCES
Soman Chainani
400 pages
Publisher: HarperTeen
Release Date: April 15th, 2014
Source: ARC from Publisher
Rating: REALLY LIKED
In the epic sequel to the New York Times bestselling novel, The School for Good and Evil, Sophie and Agatha are home, living out their Ever After. But life isn't quite the fairy tale they expected.

When Agatha secretly wishes she'd chosen a different happy ending, she reopens the gates to the School for Good and Evil. But the world she and Sophie once knew has changed.

Witches and princesses, warlocks and princes are no longer enemies. New bonds are forming; old bonds are being shattered. But underneath this uneasy arrangement, a war is brewing and a dangerous enemy rises. As Agatha and Sophie battle to restore peace, an unexpected threat could destroy everything, and everyone, they love—and this time, it comes from within.
Sophie and Agatha are living out the happily Ever After, or at least that's what they think. But Agatha's heart belongs to someone else, a boy she tries vainly to forget each day. But with one wish, the two friends are swept back into the School for Good and Evil.
But the magical world they left behind is of no more. Now, what was once the School for Good is now the School for Girls. The School of Evil just so happens to be the rotting School for Boys. Because princesses no longer need princes, they've befriended witches, and are on their way to enslave the men.
Once again, Soman Chainani will enrapture readers of all ages in a tale of friendship, love, and an epic battle against Evil – inside and out.
From the start, we're thrown back into the world of Sophie and Agatha, a world where love and friendship are a dangerous thing and Agatha must choose between the two.
Wow. A WORLD WITHOUT PRINCES was just amazing. Even better than the first book. It took off from the start without a dragging or confusing beginning.
My feelings for the characters were all over the place. One moment I hated them and the next I loved them. They kept on changing personalities. But if there was one thing that remained the same throughout the book, it was Sophie's selfishness. Which I hated. It really ruined her and Agatha's friendship.
I seriously think someone needs to show Soman Chainani how to end a book decently. Him and his horrible sort of cliff-hangers. (I still loved it, jsyk.)
And as usual, I can't really say much without spoiling the first book, so I'm just going to leave it at this: you really need to start on this trilogy. Friendship, magic, and interesting characters, what more could you want? If you're a fan of fantasy, Soman Chainani's THE SCHOOL FOR GOOD AND EVIL is a fabulous trilogy. Though it's middle-grade, it packs enough punch for readers of all ages.
About the Author
Soman Chainani's first novel, THE SCHOOL FOR GOOD AND EVIL, debuted on the New York Times Bestseller List, has been on ABA's National Indie Bestseller List for 11 weeks, has been translated into languages across six continents, and will soon be a major motion picture from Universal Studios.

As a writer and film director, Soman's films have played at over 150 film festivals around the world, winning more than 30 jury and audience prizes, and his writing awards include honors from Big Bear Lake, New Draft, the CAPE Foundation, the Sun Valley Writer's Fellowship, and the coveted Shasha Grant, awarded by a jury of international film executives.

When he's not telling stories or teaching in New York City, Soman is a die-hard tennis player who never lost a first-round match for ten years . . . until he started writing THE SCHOOL FOR GOOD AND EVIL. Now he loses all the time.