Here at IceyBooks, our favorite genre is fantasy, without a doubt. We love magic, we love far away lands, and we love everything about it. So of course, we're thrilled to host the reveal for Nicole Maggi's debut, WINTER FALLS, because it's right up our alley. Read on, because it sounds amazing, and we're pretty sure you'll be even more excited after you set eyes on that cover! Without further ado, here's the synopsis! Then, check out the cover and enter to win a signed ARC!
Sixteen-year-old Alessia Jacobs is dying to get out of her small town of Twin Willows, Maine. Things start looking up when a new family comes to town—but when she falls for Jonah, their hot, mysterious son, her life turns upside down.
Weird visions of transforming into an otherworldly falcon are just the beginning. Soon she learns she's part of the Benandanti, an ancient cult of warriors with the unique power to separate their souls from their bodies and take on the forms of magnificent animals.

Alessia never would've suspected it, but her boring town is the site of an epic struggle between the Benandanti and the Malandanti to control powerful magic in the surrounding forest.

As Alessia is drawn into the Benandanti's mission, her relationship with Jonah intensifies. When her two worlds collide, Alessia's forced to weigh choices a sixteen-year-old should never have to make.
Nicole was born in the suburbs of upstate New York, and began writing poems about unicorns and rainbows at a very early age. She detoured into acting, earned a BFA from Emerson College, and moved to NYC where she performed in lots of off-off-off-Broadway Shakespeare. After a decade of schlepping groceries on the subway, she and her husband hightailed it to sunny Los Angeles, where they now reside, surrounded by fruit trees, with their young daughter and two oddball cats. Her TWIN WILLOW TRILOGY launches this December from Medallion Press; the first book is WINTER FALLS. Her standalone novel HEARTLINES will be released in February 2015 from SourceBooks Fire.
And now for the cover! What do you think?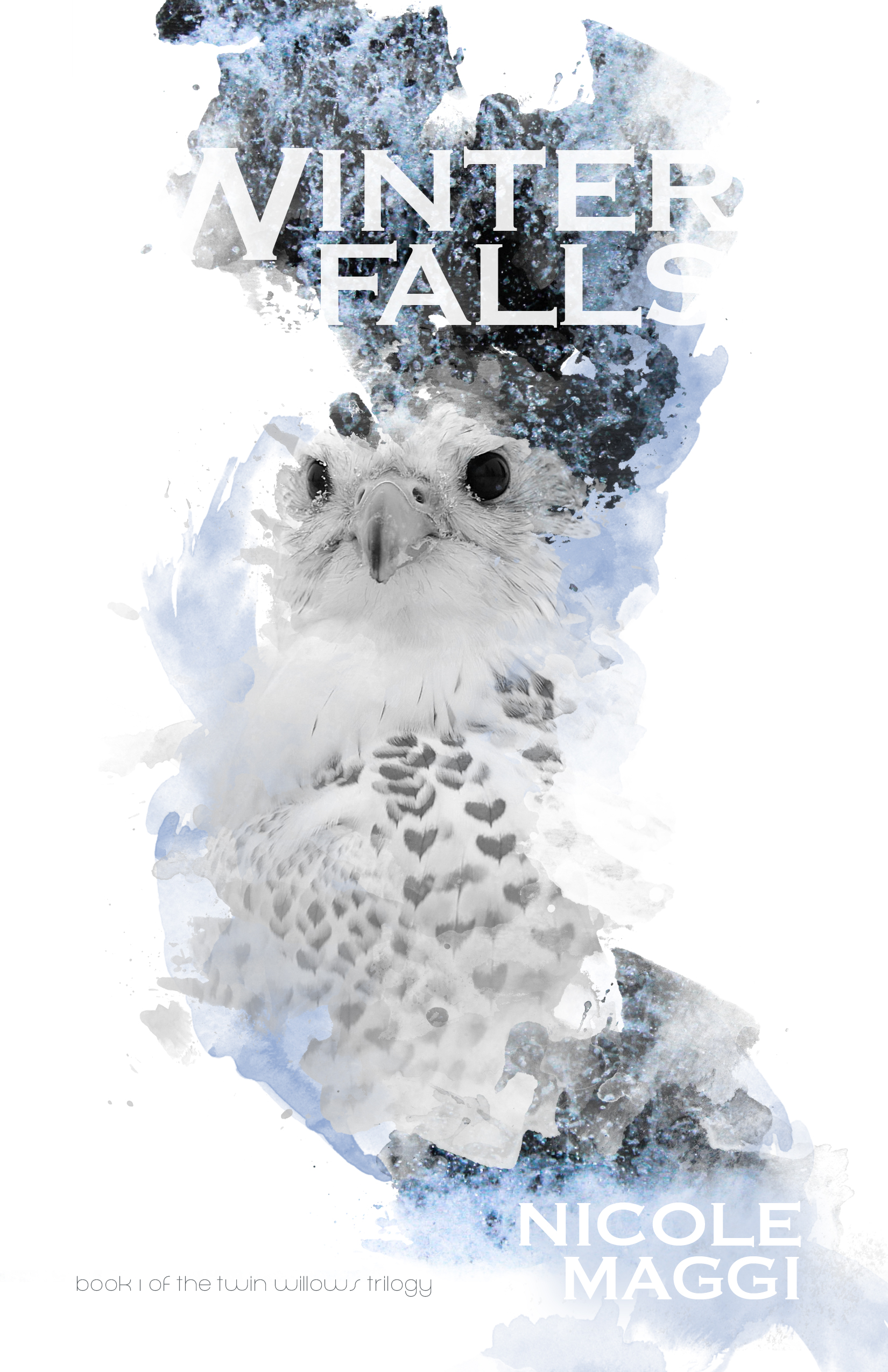 Here's what Nicole has to say about her fabulous cover:
I love this cover so much I just want to hug it close and cuddle with it. It was designed by Medallion cover artist Michal Wlos and I think he did such an amazing job. What I really love is the flow of the design. There is a waterfall that figures very prominently in the Twin Willows Trilogy and the design flows just like a waterfall. Also, the color palette echoes the blue and silver auras of the Benandanti and the Malandanti, respectively, in the story. And the way the falcon just stares out at you is mesmerizing. On the actual book cover, the title and my name will be treated with a soft gloss while the artwork will remain matte so they really stand out. There was a lot of thought and care that went into this cover, and I'm so grateful to Medallion for it.
Thanks to Nicole, I have one SIGNED ARC of WINTER FALLS for one lucky US winner (will be shipped when available)! Just fill out the Rafflecopter below. Good luck!