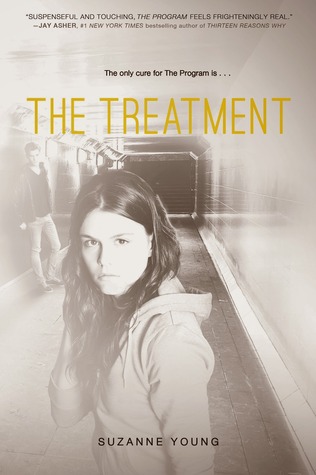 THE TREATMENT
Suzanne Young
352 pages
Publisher: Simon Pulse
Release Date: April 29th, 2014
Source: E-ARC from Publisher
Rating: REALLY LIKED
Can Sloane and James survive the lies and secrets surrounding them, or will The Program claim them in the end? Find out in this sequel to The Program, which Publishers Weekly called "chilling and suspenseful."

How do you stop an epidemic?

Sloane and James are on the run after barely surviving the suicide epidemic and The Program. But they're not out of danger. Huge pieces of their memories are still missing, and although Sloane and James have found their way back to each other, The Program isn't ready to let them go.

Escaping with a group of troubled rebels, Sloane and James will have to figure out who they can trust, and how to take down The Program. But for as far as they've come, there's still a lot Sloane and James can't remember. The key to unlocking their past lies with the Treatment—a pill that can bring back forgotten memories, but at a high cost. And there's only one dose.

Ultimately when the stakes are at their highest, can Sloane and James survive the many lies and secrets surrounding them, or will The Program claim them in the end?
Sloane and James are now rebels, on the run from the Program as they try to stay alive. But things aren't so simple anymore, with the Treatment in Sloane's pocket, they face a difficult choice: should they take the pill? Or will it cause them to spiral into depression again? And the most important question of all: can they—with the help of a few others—bring down The Program?
As you all know, I'm the type of person who reads reviews on Goodreads before I start a book, and when I saw the disappointment so many readers had faced with the sequel to THE PROGRAM, I was nervous.
But Suzanne Young didn't let me down. Once again, she swept me off my feet into a world of suicide, programs, and a pill that could bring back memories that caused depression.
Sure, THE TREATMENT wasn't as good as it's predecessor, but it was still a sequel worthy of its title. Fast-paced, suspenseful, and full of new characters, you won't even realize you've finished the book until you turn the last page.
I'll admit there were some parts that annoyed me, like how the manipulative Michael Realm kept on claiming how much he loved Sloane when all I felt was like punching him. And how James didn't have enough time to shine. I loved James. Sweet, funny, and caring, he's a character hard to dislike.
I loved the new characters. All of them. They were all different and unique, but they had one purpose—to bring down The Program.
Even though the ending was slightly rushed and the James-less parts were several, THE TREATMENT was a novel that I will gladly say doesn't drag on. And yes, I would definitely re-read this duology if I could all over again. The novels are as unique as their covers, and a must-read for every YA fan!
About the Author
Originally from New York, Suzanne Young moved to Arizona to pursue her dream of not freezing to death. She currently resides in Tempe, where she teaches high school English. When not writing obsessively, Suzanne can be found searching her own tragic memories for inspiration. Suzanne is the author of several books for teens, including THE PROGRAM, A NEED SO BEAUTIFUL, and A WANT SO WICKED.