I revealed the cover for Betsy Cornwell's debut, TIDES, last year. Today, I'm thrilled to have her here again for an interview, along with a giveaway to celebrate her debut's paperback release! Read on for our exclusive Q&A, then enter to win one signed paperback of TIDES!
IceyBooks: Describe your debut, TIDES, in 5-7 words.
Betsy Cornwell:Selkies, secrets, and one loving, weird family.

IceyBooks: Many novels are inspired by one sentence or question, was there one that sparked TIDES?
Betsy Cornwell
The idea for TIDES started with a place (the Isles of Shoals, where I worked as a steamship-replica historical tour guide!), but the first line of the prologue was with me from the beginning:
The color at the bottom is so deep, there are few who would call it blue.
IceyBooks: Do you have a favorite line that was removed from the original draft of TIDES?
Betsy Cornwell: Ooh, I have lots! TIDES is told from multiple points of view, and the villain's perspective was eventually cut from the final draft. I miss his creepy voice, though! I've actually posted an entire lost chapter from his perspective here: http://theroseandchestnut.com/2014/03/13/long-lost-tides-chapter-hopes-skin/
My favorite line from that chapter is probably this one: "An image rose in his mind of the girl vivisected, her skin hanging off her flesh like a limp red dress."
Ah, creepy villain. You are so creepy.

IceyBooks: Say TIDES is being adapted to a movie – who would portray your main character?
Betsy Cornwell: Niall Horan, baby. He has the slightly adorkable dreaminess necessary to play my eighteen-year-old hero, Noah. Plus, I love Irish guys (just ask my Galway-native husband)!
(I don't know if Niall can act, but at least a lot of teens would see the movie . . . )

IceyBooks: Give us the three…Movies you can't wait to see:
Betsy Cornwell:
I absolutely can't wait to see Song of the Sea, the new animated movie from the studio that made The Secret of Kells. Their animation style is breathtaking, and Song of the Sea is all about selkies, so it seems to be tailor-made out of things I love. I'm also impatient to see The Grand Budapest Hotel because I'm a big Wes Anderson fan, and finally, The Maiden And The Princess (directed by Ali Scher, a college classmate of mine) has been on my radar for a long time.
IceyBooks: Random facts about you:
Betsy Cornwell:
And finally, I am taller than the average American man, I own two dairy goats named Nanny and Ninny (and have mad cheesemaking skills, you should try my chevre) and I am attempting to become quadrilingual (I've got English, French, and some German, and I'm working on my Irish).
IceyBooks: Books you can't wait to read:
Betsy Cornwell:
SO. MANY. BOOKS. I'm going to have to go with 1. whatever Margaret Atwood writes next 2. A Circle of Quiet by Madeleine L'Engle (my next gift-to-myself book, whenever that will be!) and 3. A Wicked Thing by Rhiannon Thomas, a retelling of Sleeping Beauty that's coming out in 2015.
About the Author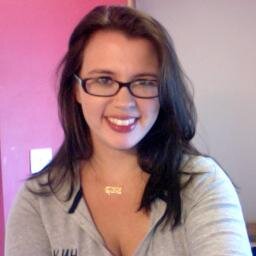 Betsy Cornwell wrote her first novel, TIDES, as a student at Smith College. After graduating from Smith and getting an MFA from Notre Dame, she moved to Ireland to live with the fairies. She has two more novels coming in 2015: COMPASS, a companion novel to TIDES, and MECHANICA: The Inventor Princess, a steampunk retelling of Cinderella.

You can read two of her stories for free online: "Autopsy" and "Shapes," as well as her Teen Ink column archives. Thanks for visiting!
Find Betsy on her
Website | Twitter | Goodreads
Add
TIDES
to Goodreads
Buy TIDES
Thanks to Betsy, we've got 1 paperback copy of TIDES up for grabs!
Just fill out the Rafflecopter below. Good luck!