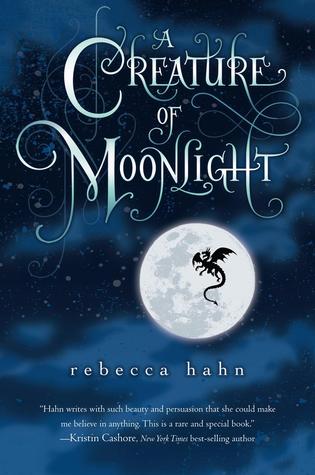 A CREATURE OF MOONLIGHT
Rebecca Hahn
224 pages
Publisher: HMH Books
Release Date: May 6th, 2014
Source: ARC from Publisher
Rating: REALLY LIKED
A stunning debut novel about a girl who is half dragon, half human, and wholly herself.

As the only heir to the throne, Marni should have been surrounded by wealth and privilege, not living in exile-but now the time has come when she must choose between claiming her birthright as princess of a realm whose king wants her dead, and life with the father she has never known: a wild dragon who is sending his magical woods to capture her.

Fans of Bitterblue and Seraphina will be captured by A Creature of Moonlight, with its richly layered storytelling and the powerful choices its strong heroine must make.
Rebecca Hahn slips into the YA masses with a powerfully written debut about a girl who suddenly finds herself amidst countless responsibilities and must embrace her destiny.
In one word, A CREATURE OF MOONLIGHT can be described as magical. But it's more than that.
A CREATURE OF MOONLIGHT is the perfect treat for a rainy day, when you've got time to savor every word. The prose is lyrical and gorgeous and the story isn't your typical one. There's very little romance, for one. And the story, despite being a fantasy, revolves very closely around Marni, our protagonist, and focuses less on a plot involving outside elements. Hahn's debut is pure fantasy, but pulls real elements to the surface – responsibilities, decisions, and the harsh insecurities of growing up.
Plot aside, I found A CREATURE OF MOONLIGHT eerily compelling. The magic bordered on the dark and mysterious and the tale was just so… different, that I had to keep flipping the pages because I had no idea what to expect next. Dragons, imps, birds with human faces, vengeances that can be knitted—this wonderful, richly-imagined book has it all.
Our protagonist, Marni is a strong girl, with strong words that she isn't afraid to use. The book is narrated by her, and the writing reflects her village-upbringing dialect. But Marni's a princess, serving a sentence of growing flowers in a hut isolated in a village. Her crime? Being the supposed dragon's daughter.
The writing is what makes this book. It was eerie, compelling, and drew a haze around the words, giving everything a dream-like feel. Dreamy and magical and so well-done. The story lingers long after, which is always a sign of a good book!
It's difficult to believe A CREATURE OF MOONLIGHT is Hahn's debut. The prose was utterly beautiful, meriting a place beside Laini Taylor in my ledger. The storyline itself was a beautiful one, and I do hope it continues with a sequel. All in all, A CREATURE OF MOONLIGHT is a must read for fans of YA, fantasy, and most of all, dragons!
About the Author
Rebecca Hahn grew up in Iowa, attended college in Minnesota, and soon afterward moved to New York City, where she worked as an editorial assistant and wrote A Creature of Moonlight on the side. She now lives in Minneapolis, with the winter cold, the wide sky, and many whispering trees.