Sarah Beth Durst isn't a newcomer to IceyBooks, and while I'm really excited to read her foray into adult fiction, THE LOST, I'm equally excited to have her here again with a guest post on her journey to publication, and a giveaway for THE LOST. Read on!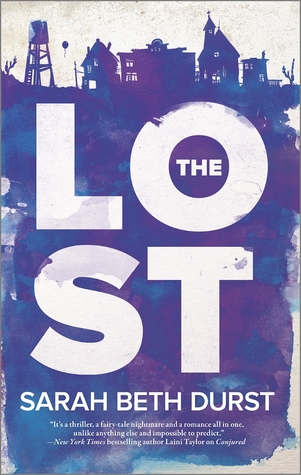 Lost your way?

Your dreams?

Yourself?

Welcome to Lost.

It was supposed to be a small escape. A few hours driving before turning around and heading home. But once you arrive in Lost…well, it's a place you really can't leave. Not until you're Found. Only the Missing Man can send you home. And he took one look at Lauren Chase and disappeared.

So Lauren is now trapped in the town where all lost things go-luggage, keys, dreams, lives-where nothing is permanent, where the locals go feral and where the only people who don't want to kill her are a handsome wild man called the Finder and a knife-wielding six-year-old girl. The only road out of town is engulfed by an impassable dust storm, and escape is impossible….

Until Lauren decides nothing-and no one-is going to keep her here anymore.
I started on my journey when I was ten years old. That's the year I decided I was going to be a writer.
Not so coincidentally, it's also the same year I read ALANNA by Tamora Pierce, THE BLUE SWORD by Robin McKinley, and SO YOU WANT TO BE A WIZARD by Diana Duane. I didn't know anyone who was a writer — in fact, I subconsciously assumed that all writers were either dead or mythical. But I figured that if Alanna could become a knight, Harimad-Sol could defeat an army single-handedly, and Nita could be a wizard, then by golly, I could be a writer.
Except I didn't say "by golly." I'm reasonably certain I've never said "by golly" in my life.
Anyway, once I decided I wanted to be a writer, I did what any slightly-overachieving ten year old would do: I went to the library and took out every book in the 808 section — that's the how-to-write section. I poured over them. I begged my parents for a subscription to Writer's Digest and read every issue cover to cover. I even read the phone book, marking down interesting names for characters on index cards and then assigning them superpowers and magical talking animals (because everyone should have a telepathic dolphin or two). And of course, I wrote.
I continued to write through middle school, high school, and college. But though I wrote about a million story openings, it took me until after college before I finished my first full-length novel manuscript.
After that, I entered what I call my rinse-lather-repeat stage. Write a manuscript, send it out, get rejected, write another, send it out, get rejected, write another… Until at last, the stars aligned, and I signed with my wonderful agent Andrea Somberg. And within a matter of weeks after that, I had multiple offers on my debut novel, INTO THE WILD.
Since then, I've published a book a year: OUT OF THE WILD, ICE, ENCHANTED IVY, DRINK SLAY LOVE, VESSEL, and CONJURED. And this year, for the first time, I have three books coming out: THE LOST, CHASING POWER, and THE MISSING. THE LOST is my first book for adults, the first in a new trilogy, and will be out on May 27th from Harlequin/Mira. It's about a woman who is trapped in a town full of only lost things and lost people.
So that's my overall journey. Looking back, I can see that I did four things that were key: (1) wrote a lot, (2) researched reputable agents who represent work like mine, (3) submitted my work to them, and (4) by golly, I didn't give up.
Sarah Beth Durst is the author of seven fantasy novels for teens. Her latest, Conjured, came out in September 2013 from Bloomsbury/Walker. Prior to that, she released Vessel, Drink Slay Love, Enchanted Ivy, and Ice from Simon & Schuster, as well as Into the Wild and its sequel Out of the Wild from Penguin. Her first book for adults, The Lost, comes out in June 2014 from Harlequin/Mira. She was awarded the 2013 Mythopoeic Fantasy Award for Children's Literature and has been a finalist for SFWA's Andre Norton Award three times. Sarah has been writing fantasy stories since she was ten years old and holds an English degree from Princeton University, where she spent four years writing about dragons and wondering what the campus gargoyles would say if they could talk. She lives in Stony Brook, New York, with her husband and children.
Thanks to Harlequin, I've got one copy of THE LOST for one lucky US reader!
Find Sarah on Twitter | Goodreads | Website
Add THE LOST to Goodreads | Buy THE LOST on Amazon