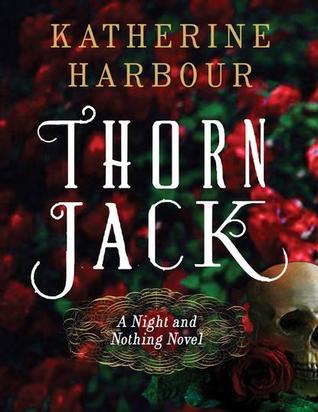 THORN JACK
Katherine Harbour
352 pages
Publisher: Harper-Voyager
Release Date: June 24th, 2014
Source: Hardcover from Publisher
Rating: REALLY LIKED
They call us things with teeth. These words from Lily Rose Sullivan the night of her death haunts her seventeen-year-old sister, Finn, who has moved with her widowed father to his hometown of Fair Hollow, New York. After befriending a boy named Christie Hart and his best friend, Sylvie Whitethorn, Finn is invited to a lakeside party where she encounters the alluring Jack Fata, a member of the town's mysterious Fata family. Despite Jack's air of danger and his clever words, Finn learns they have things in common.

One day, while unpacking, Finn finds her sister's journal, scrawled with descriptions of creatures that bear a sinister resemblance to Jack's family. Finn dismisses these stories as fiction, but Jack's family has a secret—the Fatas are the children of nothing and night, nomadic beings who have been preying on humanity for centuries—and Jack fears that his friendship with Finn has drawn the attention of the most dangerous members of his family—Reiko Fata and vicious Caliban, otherwise known as the white snake and the crooked dog.

Plagued with nightmares about her sister, Finn attempts to discover what happened to Lily Rose and begins to suspect that the Fatas are somehow tied to Lily Rose's untimely death. Drawn to Jack, determined to solve the mystery of her sister's suicide, Finn must navigate a dangerous world where nothing is as it seems.
After Serafina Sullivan's older sister, Lily Rose, commits suicide, Finn and her dad pack up their bags and move to Fair Hollow, an enchanting town with an aura of other-worldliness where she befriends Christie Hart and his best friend, Sylvie Whitethorn. And she meets Jack Fata, a darkly beautiful boy who belongs to the secretive Fata family. It isn't long before Finn and her friends find themselves caught up in the secret of the Fata's, and are soon thrown into danger.
If you want a book that will keep you up into the wee hours of the night, THORN JACK is exactly what you're looking for. History, Fatas, and mysteries, this epic debut is a novel you definitely don't want to miss out on.
Let us enter the world of Fair Hollow, New York, where it seems the people and places are from a totally different century – which was one of my favorite things about this book. It was darkly beautiful, with all the vintage stuff, and a dash of Edgar Allan Poe and William Butler Yeats.
I won't lie, I was skeptical about THORN JACK. For starters, it doesn't sound like something I would pick up. But I did pick it up. And I devoured it. Because it was amazing. I loved the witty and dark characters, the whimsical-ness of Fair Hollow, and the mysterious plot.
I loved each and every single one of the characters—they definitely stand out from the YA-character crowd. How many characters do you see with neon-orange hair? Or marmalade-colored eyes? Or have this thing about them where you can practically feel that they are otherwordly? Yeah, that's all in THORN JACK. And there's good humor. I love humor.
So why am I not giving this book an all-out five? Or ten? In the beginning I was confused by the amount of characters running around and couldn't remember who was who in the Fata family, but after a while, that cleared up. I also didn't like how some parts where a tad bit confusing. One star off for confusing. But as I said, it clears up, and you will love it.
By now, you should be scrambling out of your chair to read THORN JACK and be as dazzled as I was by this amazing debut. Katherine Harbour, you officially have yourself a fan in me. Albeit a crazy one.
BUY THE BOOK
Add THORN JACK to Goodreads
About the Author
I was born in Albany, NY (upstate NY is where Thorn Jack takes place) and now live in Sarasota, FL. I briefly attended college in Minneapolis, Minnesota, before attempting life as a painter (the artsy kind). I've been writing since I was seventeen and juggling a few jobs while doing it. I wrote Thorn Jack when I was seventeen—as well as many, many other things over the years—and I took it out of the trunk (a literal trunk) two years ago, dusted it off, and began revising it…