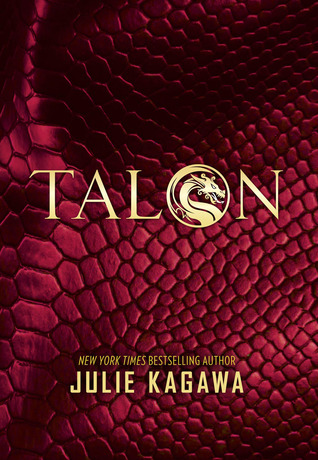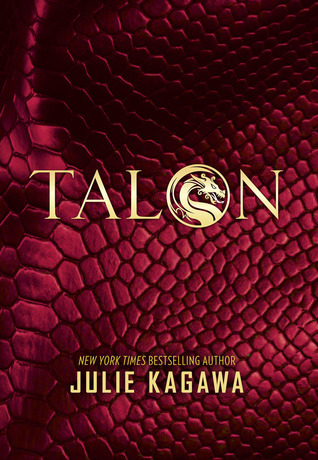 TALON
Julie Kagawa
400 pages
Publisher: Harlequin Teen
Release Date: October 28th, 2014
Source: ARC from Publisher
Rating: LIKED
Long ago, dragons were hunted to near extinction by the Order of St. George, a legendary society of dragon slayers. Hiding in human form and growing their numbers in secret, the dragons of Talon have become strong and cunning, and they're positioned to take over the world with humans none the wiser.

Ember and Dante Hill are the only sister and brother known to dragonkind. Trained to infiltrate society, Ember wants to live the teen experience and enjoy a summer of freedom before taking her destined place in Talon. But destiny is a matter of perspective, and a rogue dragon will soon challenge everything Ember has been taught. As Ember struggles to accept her future, she and her brother are hunted by the Order of St. George.

Soldier Garret Xavier Sebastian has a mission to seek and destroy all dragons, and Talon's newest recruits in particular. But he cannot kill unless he is certain he has found his prey: and nothing is certain about Ember Hill. Faced with Ember's bravery, confidence and all-too-human desires, Garret begins to question everything that the Order has ingrained in him: and what he might be willing to give up to find the truth about dragons.
Ember Hill is a hatchling dragon. And she just got her first mission: blend in with the mortal humans. It's easier than it sounds, since she's studied them for pretty much all her life. But there's a problem, a rogue dragon is on the prowl and the Order of St. George is hunting them down. It isn't long before she begins to question everything TALON ever taught her and soon, she's caught up in the middle of an age-old war.
And there goes yet another book that I thought would be epic-ally awesome. Don't get me wrong, TALON was a book that I liked, but not all that I expected it to be. Maybe it was because I picked it up expecting to place it beside the ranks of The Winner's Curse or even Throne of Glass. I mean, come on, dragons? I NEEDED THIS BOOK.
The part that I really didn't like was Ember, our main character. I seriously don't know what's up with incredibly gullible main characters. You'd expect a girl, who also happens to be a wicked fighter and dragon, to be smart. But that's not the case in TALON. Ember was a character who didn't pay much attention to subtle hints and ignored pretty much every little warning sign she got.
Another thing that made TALON difficult to love was how Garret, the main guy/soldier, was incredibly cold-hearted but a few minutes after he meets Ember, his rock-hard heart has already melted. His partner on the mission, Tristan, was likeable and did enough thinking for both of them when it came to Ember. Thankfully.
Sure, TALON had a lot of great parts and Julie Kagawa does a fabulous job in describing things, the world, their mission, and the characters. And I absolutely loved it when she described the dragons, and how she made them sound so awesome – they were pretty easy to imagine.
TALON is set in a modern fantasy world, an aspect of the story that was pretty neat and I really enjoyed. (Though honestly, it would have been cooler to see them get used to technology, but that's just me). TALON is also told from the POV's of Ember and Garret in the first half, and later on, Riley, the rogue dragon, gets a part too. I honestly didn't like Riley. He was kind of lame for a dragon, and Garret was by far a much more interesting character.
So, should you read TALON? Of course! Just don't go into it expecting a whole ton of awesomeness. It's good but not that good. This was my first read by Julie Kagawa, and I've heard raving things about her other two series. That was my main reason for the sky-high expectations I set for TALON. Don't make my mistake, and you'll enjoy this dragon read much, much more.
BUY THE BOOK
Add TALON to Goodreads
About the Author
Julie Kagawa, the New York Times bestselling author of the Iron Fey and Blood of Eden series was born in Sacramento, California. But nothing exciting really happened to her there. So, at the age of nine she and her family moved to Hawaii, which she soon discovered was inhabited by large carnivorous insects, colonies of house geckos, and frequent hurricanes. She spent much of her time in the ocean, when she wasn't getting chased out of it by reef sharks, jellyfish, and the odd eel.
When not swimming for her life, Julie immersed herself in books, often to the chagrin of her schoolteachers, who would find she hid novels behind her Math textbooks during class. Her love of reading led her to pen some very dark and gruesome stories, complete with colored illustrations, to shock her hapless teachers. The gory tales faded with time (okay, at least the illustrations did), but the passion for writing remained, long after she graduated and was supposed to get a
real job.

To pay the rent, Julie worked in different bookstores over the years, but discovered the managers frowned upon her reading the books she was supposed to be shelving. So she turned to her other passion: training animals. She worked as a professional dog trainer for several years, dodging Chihuahua bites and overly enthusiastic Labradors, until her first book sold and she stopped training to write full time.

Julie now lives in Louisville, Kentucky, where the frequency of shark attacks are at an all time low. She lives with her husband, an obnoxious cat, an Australian Shepherd who is too smart for his own good, and a hyper-active Papillion.