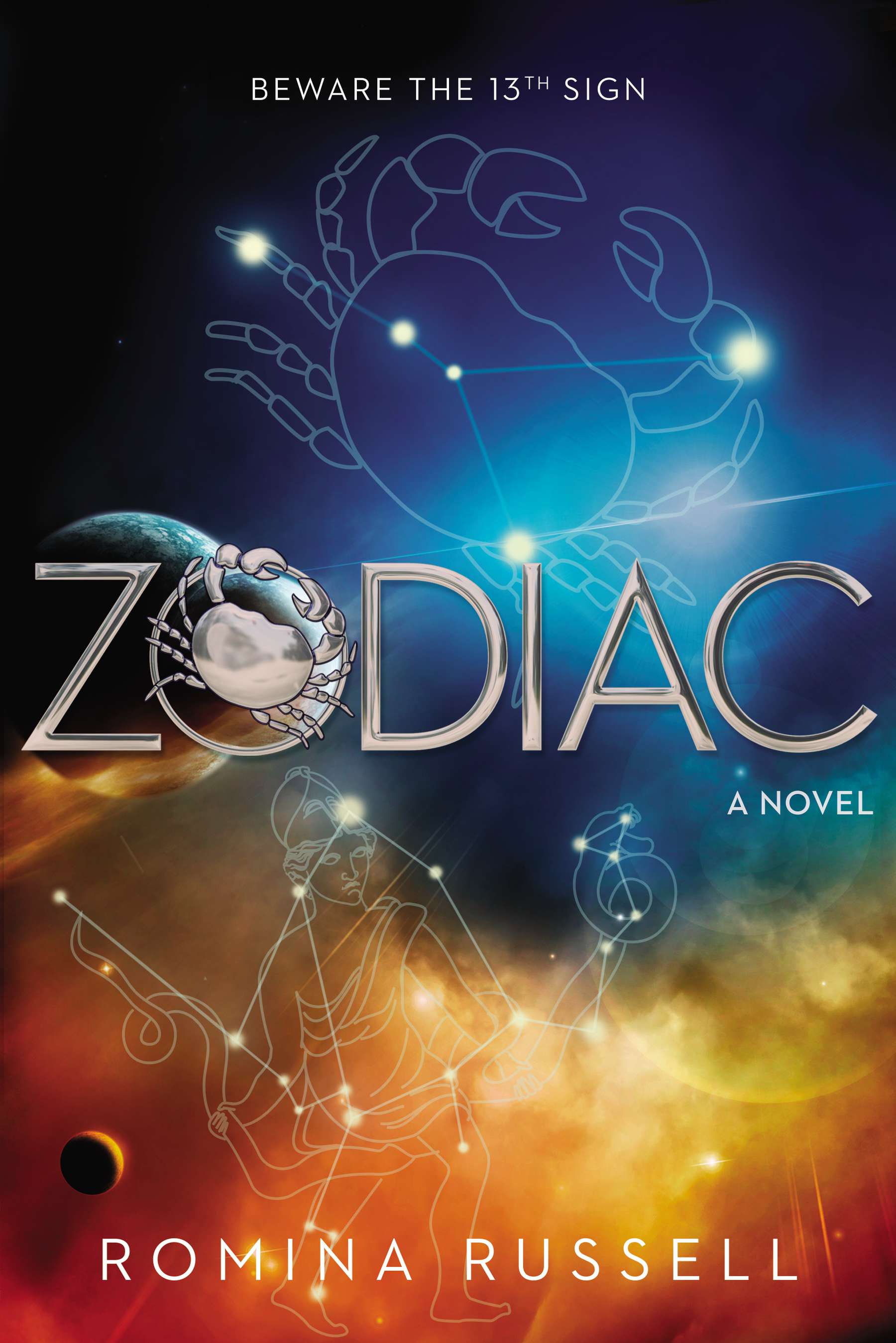 Romina Russell's debut, ZODIAC, which has one amazing cover, just hit shelves earlier this week. And we're thrilled to have her here with us, talking about books and ZODIAC! Did we mention there's a giveaway, too? There is.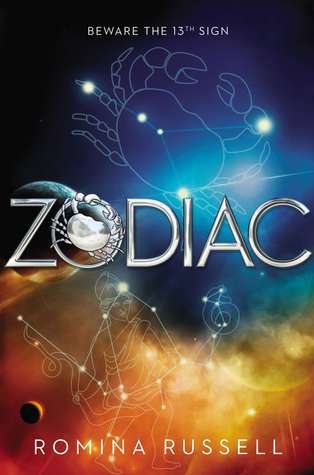 At the dawn of time, there were 13 Houses in the Zodiac Galaxy. Now only 12 remain….

Rhoma Grace is a 16-year-old student from House Cancer with an unusual way of reading the stars. While her classmates use measurements to make accurate astrological predictions, Rho can't solve for 'x' to save her life—so instead, she looks up at the night sky and makes up stories.

When a violent blast strikes the moons of Cancer, sending its ocean planet off-kilter and killing thousands of citizens—including its beloved Guardian—Rho is more surprised than anyone when she is named the House's new leader. But, a true Cancerian who loves her home fiercely and will protect her people no matter what, Rho accepts.

Then, when more Houses fall victim to freak weather catastrophes, Rho starts seeing a pattern in the stars. She suspects Ophiuchus—the exiled 13th Guardian of Zodiac legend—has returned to exact his revenge across the Galaxy. Now Rho—along with Hysan Dax, a young envoy from House Libra, and Mathias, her guide and a member of her Royal Guard—must travel through the Zodiac to warn the other Guardians.

But who will believe anything this young novice says? Whom can Rho trust in a universe defined by differences? And how can she convince twelve worlds to unite as one Zodiac?

Embark on a dazzling journey with ZODIAC, the first novel in an epic sci-fi-meets-high-fantasy series set in a galaxy inspired by the astrological signs.

BUY THE BOOK
Add ZODIAC to Goodreads
IceyBooks: Hi Romina! Thanks for stopping by. Can you tell us a little bit about your debut, ZODIAC?
Romina Russell: ZODIAC is the first in a YA SF-meets-Fantasy series set in a galaxy inspired by the astrological signs. It stars Rho, the young Guardian of House Cancer, who must unite the Houses before a great evil of legend returns to destroy them.
IceyBooks: Many novels are inspired by a single question. Was there one that sparked ZODIAC?
Romina Russell: I've always been fascinated by Space. As a teen, I used to lie in bed for hours trying to fathom infinity—typical Virgo, I had to be in control of everything, so I had to understand what it meant for something to be "ever expanding." I would love to explore actual Space, but to my mathematician mother and scientist father's dismay, I'm an English major. So in writing ZODIAC, I feel like I'm finally getting to go somewhere I've always longed to explore.
IceyBooks: ZODIAC has a pretty striking cover; what were your initial thoughts when it arrived in your inbox?
Romina Russell: DJKNFJSNFAJNFUAHFHAINDJKLANHUIEFALEHCAUOWEYFYGHENDFJAUEH!!!!!!!!!!!!!!!!!!!!!!!!!! (Have to give props to her excellency, the goddess Vanessa Han at Razorbill, for inspiring that reaction.)
IceyBooks: How many novels did you write before ZODIAC won you an agent?
Romina Russell: Five.
IceyBooks: What are your three current YA favorites?
Romina Russell: There are tons, but here are three recent series I'm loving: Winter Falls by Nicole Maggi (another December debut), Falling Kingdoms by Morgan Rhodes, and Heroes of Olympus by Rick Riordan.
About the Author
Romina Russell (aka Romina Garber) is a Los Angeles based author who originally hails from Buenos Aires, Argentina. As a teen, Romina landed her first writing gig—College She Wrote, a weekly Sunday column for the Miami Herald that was later picked up for national syndication—and she hasn't stopped writing since. When she's not working on ZODIAC, Romina can be found producing movie trailers, taking photographs, or daydreaming about buying a new drum set. She is a graduate of Harvard College and a Virgo to the core.
And now for the giveaway! Thanks to our friends at Penguin, we've got one copy of ZODIAC for a lucky US reader. Just fill out the Rafflecopter below. Good luck!