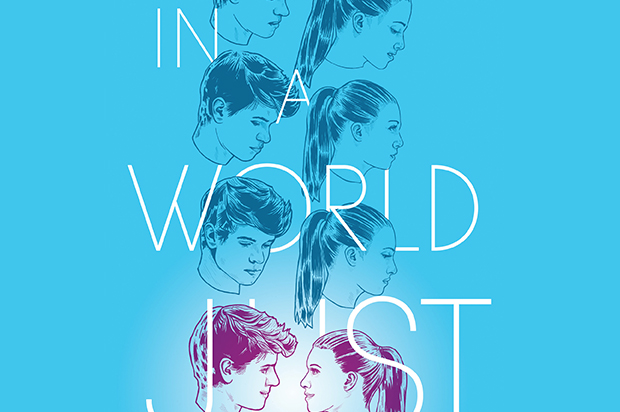 Remember when I revealed the cover for IN A WORLD JUST RIGHT by Jen Brooks? It was in June, 2014. While that cover was unique, you'll be surprised at the new take on the cover. That's right, Jen Brooks's IN A WORLD JUST RIGHT has a new cover, thanks to Simon & Schuster. Here's what Christian Trimmer, senior editor at S&S, and the editor of Jen's debut, had to say:
"Based on some feedback from accounts, we decided to take an illustrated approach to the jacket design. That said, everyone was in love with the concept (conceived by the brilliant Lizzy Bromley) as it perfectly captures the tone and idea of Jen's story while showcasing (multiple versions of) our two heroes. So, Lizzy reached out to artist Nick Yarger and asked him to recreate the jacket with his beautiful line work. The result is stunning—unique, true to the novel, and very now."
Very now, indeed, because I love the new version even more than the first. First, read the synopsis, then I'll show you a few blurbs to get you excited, and you can finally feast your eyes on the cover.
The Synopsis
There's so much Jonathan Aubrey would change about the real world. He'd be graduating from high school with his class. He'd have bunches of friends. And instead of admiring Kylie Simms from afar–beautiful, poetry-smart, track champion Kylie Simms–he'd be her boyfriend. Luckily, he doesn't have to change the real world to have what he wants.

He can just create a new one.

In Kylie-Simms-is-my-girlfriend, he's given himself everything he doesn't have in real life, until one day he confuses his worlds and almost kisses the real Kylie Simms. Now his girlfriend Kylie and the real Kylie are changing, and Jonathan must solve the mystery of his own life to save his love from a gruesome fate.
The Blurbs
"A shining debut. Smart, tender, heartbreaking, triumphant. In a World Just Right is a miracle."

– Julie Berry, author of All the Truth That's in Me
At the age of eight, Jonathan Aubrey barely survived the plane crash that took the lives of his parents, younger sister Tess, and Auntie Carrie, leaving him under the guardianship of his widowed Uncle Joey. Jonathan's physical scars may have faded over the past ten years but his desire to escape his lonely, isolated life has only increased. Looking for something better or at least different from what he already knows, Jonathan discovers he can create alternate worlds where he can be happy for a while. Now Jonathan splits time between his everyday existence and his preferred Kylie-Simms-is-my-girlfriend world, but with graduation coming, he knows things must change. Will he be ready to choose just one world?

Jonathan is the best kind of main character any story could want; he is sympathetic, flawed, and is as surprised as the reader by how events unfold. His life experiences are so unique that they should be un-relatable but Jonathan's honest, emotional responses allow for a real connection. Feelings of isolation and dreaming of a more ideal life will feel familiar to just about any reader, no matter what their background, but it is Jonathan's method of escaping his everyday struggles that teens will envy. The matter-of-fact acceptance that other worlds are possible and how one person can travel from space to space makes it easier for readers to focus on the characters, their relationships, and their difficult choices. Every piece of the puzzle that is this book slides into the exact right spot, forming a picture-perfect work of fiction.

–VOYA Magazine (starred review)
After graduating from Dartmouth College, Jen taught high school English for fourteen years. She holds an MA and MFA in Writing Popular Fiction from Seton Hill University. A competitive hurdler and jumper in high school and college, she coached high school cross-country and track & field for thirty-one seasons. When she's not writing in her office overlooking her back yard pond, you can find her running, hiking, visiting national parks, or going out for ice cream with her husband and son.
The Cover
Okay, okay! Enough of the suspense! What do you think?
Do you like it more than the first version (seen here)?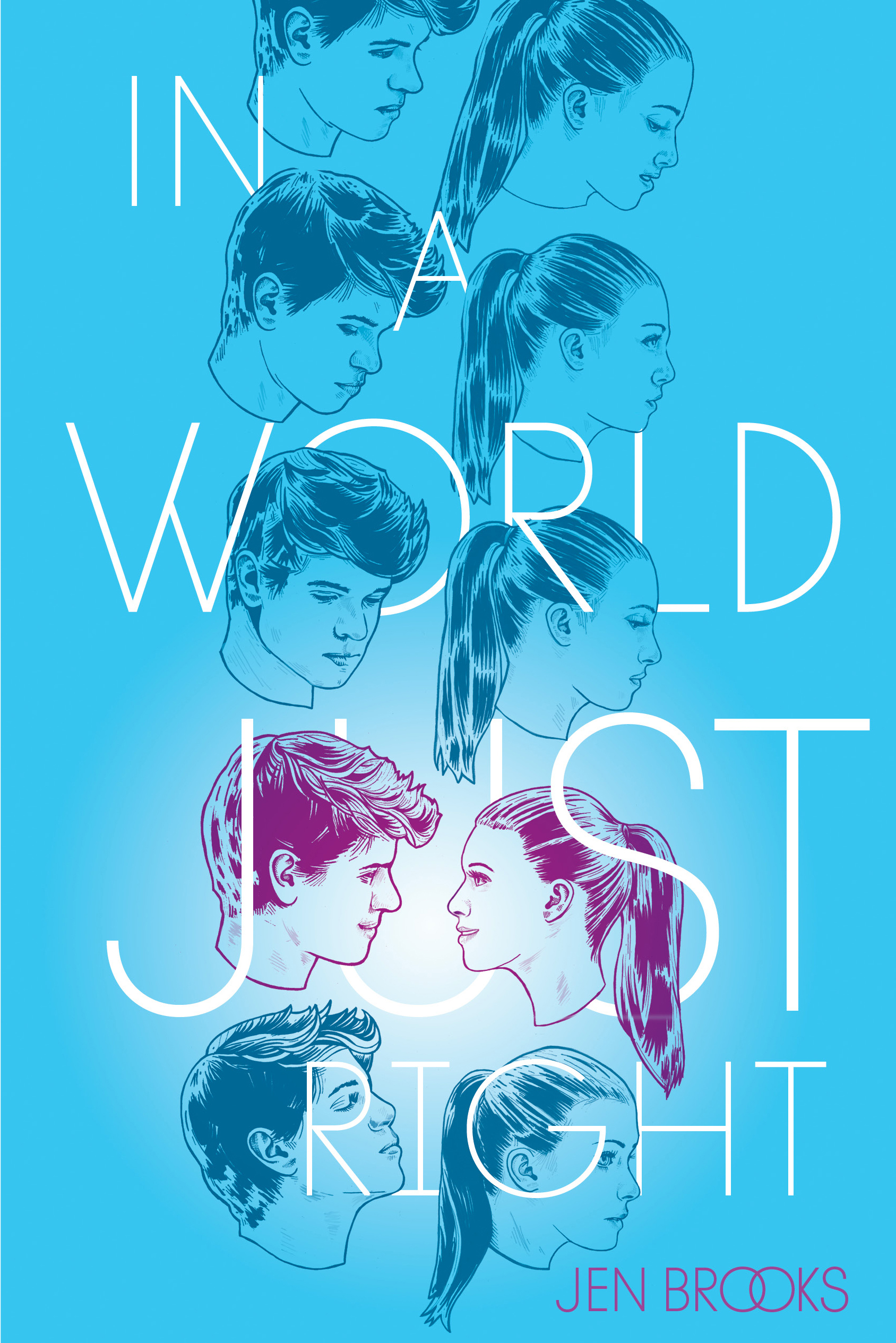 Find Jen on her Website | Facebook | Twitter | Goodreads
Add IN A WORLD JUST RIGHT to Goodreads
The Giveaway
Thanks to Jen, we've got one ARC of IN A WORLD JUST RIGHT for one US winner! Just fill out the Rafflecopter below. Good luck!