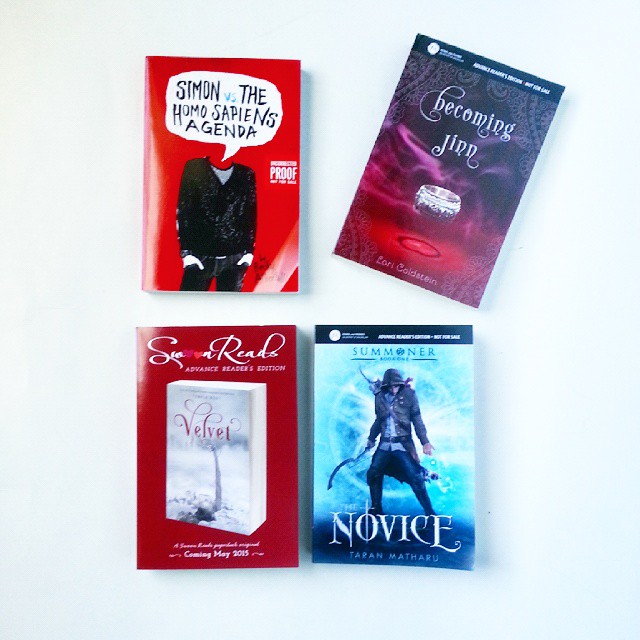 Welcome back! Here's what happened this week – in books and posts:
SIMON VS THE HOMO SAPIENS AGENDA by Becky Albertalli
BECOMING JINN by Lori Goldstien
VELVET by Temple West
NOVICE by Taran Matharu
Thank you, Macmillan and Balzer + Bray!
Here's what you missed last week:
Monday:
Meet the Seekers and win an ARC of SEEKER by Arwen Elys Dayton
THE INFINITE by Lori M. Lee – Cover Reveal and Giveaway!
Tuesday:
Asma posted the releases of 1/13
Win 6 of TIME MAGAZINE'S Top 100 YA books from Candlewick Press!
Wednesday:
Waiting on Wednesday – SPELLED
Thursday:
What's Next? – THE SIN EATER'S DAUGHTER won!
Quote Candy #15: Download a free wallpaper for ALL THAT BURNS
Friday:
Asma reviewed SEEKER by Arwen Elys Dayton
We are officially ambassadors for AN EMBER IN THE ASHES by Sabaa Tahir – and you can win!
Did you get anything exciting in the mail this week?