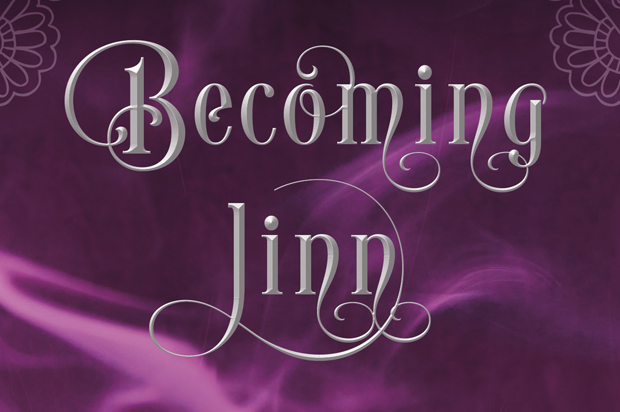 Happy book birthday to our friend Lori Goldstein! Her debut, BECOMING JINN, hits shelves today across the US, and if you know what's good for you, you'll head over and buy yourself a copy. We're thrilled to have Lori here with us today, chatting about her journey to publication, which all started with her being short. Yep, you read that right!
Forget everything you thought you knew about genies!

Azra has just turned sixteen, and overnight her body lengthens, her olive skin deepens, and her eyes glisten gold thanks to the brand-new silver bangle that locks around her wrist. As she always knew it would, her Jinn ancestry brings not just magical powers but the reality of a life of servitude, as her wish granting is controlled by a remote ruling class of Jinn known as the Afrit.

To the humans she lives among, she's just the girl working at the snack bar at the beach, navigating the fryer and her first crush. But behind closed doors, she's learning how to harness her powers and fulfill the obligations of her destiny.

Mentored by her mother and her Zar "sisters", Azra discovers she may not be quite like the rest of her circle of female Jinn . . . and that her powers could endanger them all. As Azra uncovers the darker world of becoming Jinn, she realizes when genies and wishes are involved, there's always a trick.
Thanks so much for having me, Hafsah and Asma! Before I begin, I want to take a moment to say how much it means to me to have you as part of this Becoming Jinn blog tour and especially to have you hosting this particular post on my journey to publication. From the day I joined Twitter, even before the book sold, you've been so very kind and supportive, as have so many wonderful readers and bloggers.
Before I started writing, I was like most people I know outside of this business: I had no idea how long it takes to get a book on the shelves! Now I know that while my journey took more than two years, that's not atypical.
For how it began, I owe a thanks and shout-out to my husband as he's the one who first encouraged me to write—though as a journalism major in college, I was always in the world of words. I wrote for newspapers and magazines and eventually settled into a career as a copyeditor. While I loved editing, and still do, I missed writing; however, I went to school to learn to write nonfiction. And though I was always a reader and devoured fiction books, I never thought of myself as a creative writer. And I didn't start out that way.
One day, my husband came home from work, having told a coworker yet another amusing (for them, not me) tale of what it's like to be short. At 4 feet, 10 inches, I am not built for this world. Scratch that. The world is not built for me. Don't believe me? Try having to sit on a pillow to see over the steering wheel or getting whiplash as your belt buckle snags on the kitchen drawer pull every time you wash dishes. Welcome to my world. Annoying to me, but apparently, funny to everyone else. At my husband's urging, I wrote about it. A memoir-ish book about what it's like to be short. It wasn't great. Okay, maybe parts of it were. But what was great was that it showed me that I could write a book—beyond that, it showed me that I wanted to write a book.
And so I did. I took a kernel of an idea inspired by a true story that happened to a friend and spun it into a manuscript that took me three years to complete. Writing (and rewriting) that book taught me how to write. I made many mistakes; I learned to revise and start again; I learned to get over the pain of hitting the delete button. I then took a week-long novel-planning course that, combined with all else I'd learned, set me on a path to write my next manuscript.
By the time I started writing Becoming Jinn in the fall of 2012, I was able to write it in two months instead of three years. I entered many contests with it, lost a lot, received great feedback, revised, and was able to get my agent, Lucy Carson, in February of 2013. She had savvy insights into the manuscript and I revised for two months before going on submission in May of 2013. We sold in less than two weeks to Feiwel and Friends for Becoming Jinn and its sequel.
And then came the revising of Jinn with my editor, the writing and revising of the sequel, and a lot of time to imagine what it'd be like to actually have a finished book in my hands. It was a lot of work and it filled most of those two years. And here's something I didn't expect: the amount of pressure I'd feel while revising for an editor and writing my second book, hoping it would meet the publisher's expectations as well as my own. There have been highs and lows–mostly highs. But what's made the highs higher and the lows brief is the abundance of writers, readers, and bloggers I've met and shared it all with. This community is generous and supportive—and fun! It's the best job with the best coworkers I've ever had, even though most are virtual–or maybe that's why they're the best! ;)
I've been lucky to be a part of debut groups like the Freshman Fifteens and the Fearless Fifteeners as well as to serve as a mentor in contests like Pitch Wars and the Wattpad-Freshman Fifteens short story contest, which I organized. Through it all, I've met terrific people who've turned into great friends. It's the best part of this journey to publication.
Though I will say stepping into the ornate elevator in the Flatiron Building in New York City, home to Macmillan, and then meeting with my editor for the first time—realizing that this was actually all going to happen and I'd get to have a career I truly loved—was pretty freakin' fantastic too.
(For those interested in more on my road to publication, I wrote a very detailed post about it for Aimee Salter's blog shortly after Becoming Jinn was acquired here.)
About the Author
Lori Goldstein was born into an Italian-Irish family and raised in a small town on the New Jersey shore. She earned her bachelor's degree in journalism from Lehigh University and worked as a writer, editor, and graphic designer before becoming a full-time author. She currently lives and writes outside of Boston. Lori is the author of the young adult contemporary fantasy series Becoming Jinn (Feiwel & Friends/Macmillan, April 21, 2015, Spring 2016). You can visit her online at www.lorigoldsteinbooks.com.
The Giveaway
Thanks to our friends at Macmillan, we've got three stunning hardcovers of Lori Goldestein's debut, BECOMING JINN, for three lucky readers of IceyBooks. Just fill out the Rafflecopter below. Good luck!
More Goodies
The lovely Lori is giving away more to her readers! If you pre-ordered BECOMING JINN, or place an order for a copy by April 25th, you can win the following goodies! Just click on the graphic below for more details over on Lori's blog.