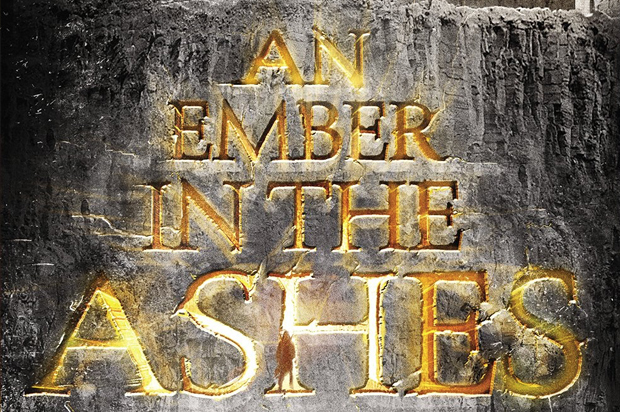 Today's a VERY special day. Sabaa Tahir's debut, which she worked on for years, is finally out in the world. This book holds a special place in my heart: it's brutal, terrible, and plants a tiny seed of hope in the midst of chaos. It's an amazing book, and I know all of you will love it. So be sure to purchase your copy today!
We're thrilled to have Sabaa over on the blog today, with a short Q&A to celebrate her release day. Read on!
Sabaa Tahir's AN EMBER IN THE ASHES is a thought-provoking, heart-wrenching and pulse-pounding read. Set in a rich, high-fantasy world with echoes of ancient Rome, it tells the story of a slave fighting for her family and a young soldier fighting for his freedom.

Laia is a slave. Elias is a soldier. Neither is free.

Under the Martial Empire, defiance is met with death. Those who do not vow their blood and bodies to the Emperor risk the execution of their loved ones and the destruction of all they hold dear.

It is in this brutal world, inspired by ancient Rome, that Laia lives with her grandparents and older brother. The family ekes out an existence in the Empire's impoverished backstreets. They do not challenge the Empire. They've seen what happens to those who do.

But when Laia's brother is arrested for treason, Laia is forced to make a decision. In exchange for help from rebels who promise to rescue her brother, she will risk her life to spy for them from within the Empire's greatest military academy.

There, Laia meets Elias, the school's finest soldier—and secretly, its most unwilling. Elias wants only to be free of the tyranny he's being trained to enforce. He and Laia will soon realize that their destinies are intertwined—and that their choices will change the fate of the Empire itself.
IceyBooks: Hi Sabaa! Thanks for stopping by IceyBooks! Describe AN EMBER IN THE ASHES for us in 7 words.
Sabaa Tahir: Thank you guys for having me! In 7 words? How about: Orphan and soldier battle tyranny, discover connection.
IceyBooks: Say you were dropped in the middle of the Martial Empire in your book, who would you rather be: a Scholar or a Mask?
Sabaa Tahir: If it was a choice between only those two, definitely a Scholar.
IceyBooks: Your amazing debut has been compared—very loosely—to Romeo & Juliet, and though I've read it, I never made the connection until I saw it mentioned. I'm curious: did you ever see your story that way?
Sabaa Tahir: Not really. I consider it an adventure story first. The romance between the characters, while present, is secondary to their struggles for freedom, courage, and hope.
IceyBooks: Who was your favorite character to write in AN EMBER IN THE ASHES? And for those of us picking up the hardcover, on which page can we find your favorite scene?
Sabaa Tahir: My favorite character to write was Elias because he was such a challenge. My favorite scene begins on page 414 and is between Elias and the Commandant.
IceyBooks: What's next for your throngs of fans? A sequel to EMBER, or something equally amazing? Or both?
Sabaa Tahir: You are very kind! I hope it's a sequel to EMBER, but we shall see.
IceyBooks: How long did it take you to write EMBER? Can you tell us a little bit about that journey?
Sabaa Tahir: It took me 6 years to write Ember. That journey involved a lot of research and an insane amount of revision. It involved frustration, loneliness and fear, as well as failure and large, painful doses of humility when I realized, again and again, that I had further to travel before my book was done. It was the most life-changing journey I've ever undertaken. I wouldn't trade it for anything.
IceyBooks: Blackcliff is such a violent place—where did you pull inspiration from when building your world?
Sabaa Tahir: I pulled inspiration from many places, but the primary inspirations for Blackcliff came from two sources: child soldiers in the modern world—in places like the Democratic Republic of Congo and Liberia; and the ancient Spartan agoge, where young boys were taken from their mothers while very young and brutally trained as soldiers all the way into adulthood.
Thanks for stopping by, Sabaa! And now, readers, GO BUY THE BOOK, which is on sale today. Yay!
About the Author
Sabaa Tahir grew up in California's Mojave Desert at her family's 18-room motel. There, she spent her time devouring fantasy novels, raiding her brother's comic book stash and playing guitar badly. She began writing An Ember in the Ashes while working nights as a newspaper editor. She likes thunderous indie rock, garish socks and all things nerd. Sabaa currently lives in the San Francisco Bay Area with her family.
Thanks to Penguin, we've got some AH-mazing character posters to share with all of you. Click on each one to download, print, and share! They are brilliant!