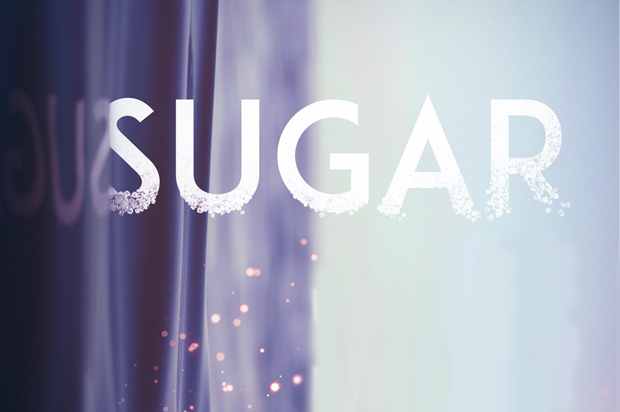 Deirdre Riordan Hall's debut, SUGAR, sounds amazing. It's a book that we feel faces one of the most important issues in society today: obesity. Read on for more about SUGAR, then check out our interview, and enter to win a goodie bag, thanks to Deirdre!
I'm the fat Puerto Rican–Polish girl who doesn't feel like she belongs in her skin, or anywhere else for that matter. I've always been too much and yet not enough.

Sugar Legowski-Gracia wasn't always fat, but fat is what she is now at age seventeen. Not as fat as her mama, who is so big she hasn't gotten out of bed in months. Not as heavy as her brother, Skunk, who has more meanness in him than fat, which is saying something. But she's large enough to be the object of ridicule wherever she is: at the grocery store, walking down the street, at school. Sugar's life is dictated by taking care of Mama in their run-down home—cooking, shopping, and, well, eating. A lot of eating, which Sugar hates as much as she loves.

When Sugar meets Even (not Evan—his nearly illiterate father misspelled his name on the birth certificate), she has the new experience of someone seeing her and not her body. As their unlikely friendship builds, Sugar allows herself to think about the future for the first time, a future not weighed down by her body or her mother.

Soon Sugar will have to decide whether to become the girl that Even helps her see within herself or to sink into the darkness of the skin-deep role her family and her life have created for her.

BUY THE BOOK
Add SUGAR to Goodreads
IceyBooks: Hi Deirdre! Thanks for stopping by IceyBooks. Tell us a little bit about your book, SUGAR!
Deirdre: Thank you for having me by, Hafsah! I love your "Quote Candy" designs and am an overall fan of your reviews and reader, writer & author support! So Sugar…the novel.
The short answer: Sugar is about a girl, who going on 17 years, has been told she is too much and yet not enough.
The long answer: Trapped in a one-star town, Sugar sees no way out until Even Anderson, tall, handsome, and tousle-haired appears with a motorcycle and a dream. Through their friendship, Sugar discovers she amounts to more than a worthless daughter, an annoying sister, the target of the senior class prank, and the reflection she sees in the mirror.
And the really long answer.
IceyBooks: The synopsis for SUGAR is nowhere near as sweet as its title, and it makes me curious, was it your first choice for Sugar's name?
Deirdre:Yes, indeed. As the inspiration for the novel sprouted, the main character's name was always Sugar, along with the title. I don't want to share any spoilers, but Sugar is her nickname. Her real name is Mercy Bella Legowski-Gracia. Yes, a mouthful. It's true, the major themes in the novel aren't too sweet, Sugar deals with A LOT, but there are some bright moments and some hopeful ones, too.
IceyBooks: Many novels are inspired by a question—was there one that sparked SUGAR?
Deirdre: Great question! Hmm… I wouldn't say Sugar was so much inspired by a specific question, but as the story developed, a recurring concept I had in mind was: what would happen if we all obsessed about the things we love about ourselves. At the outset, Sugar is miles away from liking, no less loving, anything about herself, her life, her town… but what if she did… What if… I suppose that's the question.
IceyBooks:How much of Sugar do you see in yourself?
Deirdre: I adore Sugar, and I believe anyone (fictional or otherwise) who we hold in our hearts becomes a part of who we are, via an esoteric version of osmosis or something.
More specifically, in my life I've had to reckon with my relationship to food in various forms: not eating "enough," eating "too much," and how that all related to my perceived level of control over my inner and outer life. It was agonizing, at times debilitating, but in the end, I know myself better and most importantly learned to love myself, my body, and who I am. Sugar follows a similar trajectory in learning about self-acceptance, self-love, and she doesn't have to believe everything she is told.
IceyBooks:What are you working on now? More contemporary?
Deirdre:I have projects galore! I think reading and writing makes up about 55% of my body composition. Oh, wait, that's water (or is it stardust?) I have several manuscripts in various stages of completion and a new project that I'm currently outlining. It's turning into a very long and involved outline: forty-eight hours, seven main characters, mayhem! They're all Young Adult contemporaries. I also have a few YA fantasies in drafts, but don't feel they're quite there, yet if you know what I mean.
Thank you so much for the interview and all things Icey!
About the Author
Deirdre Riordan Hall is the author of the new adult contemporary novel, To the Sea. Deirdre studied at George Washington University. She enjoys writing, reading, surfing, and yoga. One of the best things about those activities is they're all done barefoot. Although she loves shoes, she doesn't like to wear them.

Deirdre writes upper young adult and new adult fiction. She spends her days with her family, at the custom-made desk her husband crafted—writing (what else?) or seaside, pretending she's a mermaid.

Find Deirdre on Goodreads | Twitter | Website | Facebook | Tumblr
The Giveaway
Thanks to the wonderful Deirdre, we've got a pretty awesome giveaway for you all! One lucky entrant will snag the following goodies, including that super cute fortune cookie eraser! Just fill out the Rafflecopter to enter. Good luck!