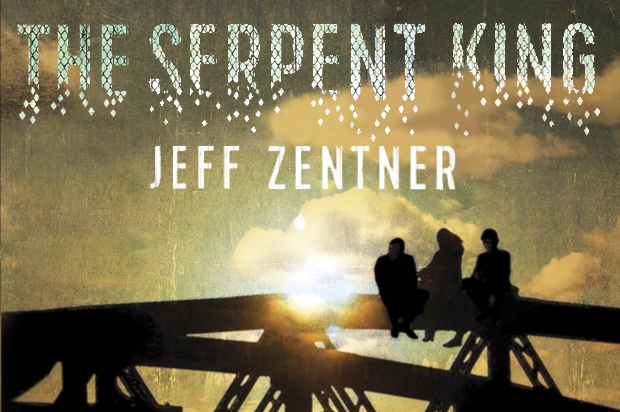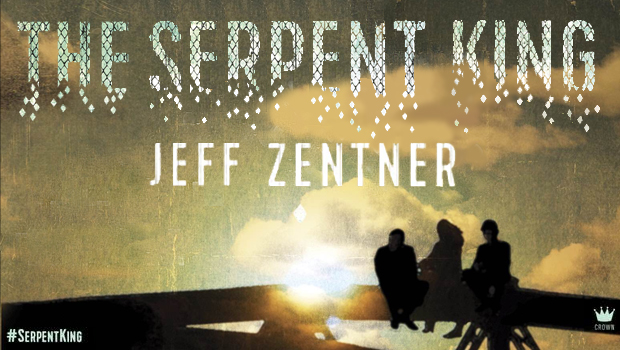 We're excited to be on the blog tour for Jeff Zentner's stunning debut, THE SERPENT KING! Gorgeously written with memorable characters, it's a book I'll be thinking about for a long time.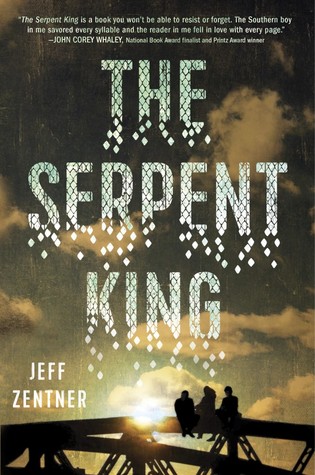 THE SERPENT KING
Jeff Zentner
384 pages
Publisher: Penguin
Release Date: March 8th, 2016
Source: ARC
Rating: LIKED
Dill has had to wrestle with vipers his whole life—at home, as the only son of a Pentecostal minister who urges him to handle poisonous rattlesnakes, and at school, where he faces down bullies who target him for his father's extreme faith and very public fall from grace.

He and his fellow outcast friends must try to make it through their senior year of high school without letting the small-town culture destroy their creative spirits and sense of self. Graduation will lead to new beginnings for Lydia, whose edgy fashion blog is her ticket out of their rural Tennessee town. And Travis is content where he is thanks to his obsession with an epic book series and the fangirl turning his reality into real-life fantasy.

Their diverging paths could mean the end of their friendship. But not before Dill confronts his dark legacy to attempt to find a way into the light of a future worth living.

"Characters, incidents, dialogue, the poverty of the rural South, enduring friendship, a desperate clinging to strange faiths, fear of the unknown, and an awareness of the courage it takes to survive, let alone thrive, are among this fine novel's strengths. Zentner writes with understanding and grace—a new voice to savor." — Kirkus Reviews, Starred Review
THE SERPENT KING is a debut that captivated me and didn't let go until its bittersweet ending. In other words, you can judge this book by it's gorgeous cover. No, really. I have an ARC of it and pictures do it no justice – because it is epic. Shimmery and vintage and all things nice.
*ahem* You guys didn't come here to hear me rave about the cover, you came for the book. Let us go forth into the sunset!
THE SERPENT KING is… different from a lot of contemporary books I've read. The main character, Dill, has a dark past and he broods a lot, but I actually liked it. He was a character I understood and did things that made perfect sense, although sometimes I felt like he overreacted, which only made him more unique.
When I started THE SERPENT KING, I had no idea what I was going into, the synopsis was vague and nobody had officially reviewed it, so I knew pretty much nothing, aside from the fact that everyone was going crazy over it and it had a pretty great cover.
Jeff Zentner's debut is heavy on the religion. While Dill may not be incredibly religious himself, we still get a lot of religious vibes. Which is something I usually avoid in contemporary books. But as I said earlier, I went into this one blind and while I'm not complaining about the display of religion in THE SERPENT KING, I just want you to know, so this is me putting it to be out there.
I LOVED our three main characters— Dillard Early, Jr., Travis Bohannon, and Lydia Blankenship, all of whom had their own points of view in the story. Travis was by far my favorite: a fanboy of an ongoing fantasy series and an all-around nerd, he was different from most YA characters we see these days. Who doesn't like a dorky guy? He was sweet and honest and smart. He was my favorite of the three misfits.
As for Lydia Blankenship, I'm just going to say I wasn't her #1 fan. She annoyed me at times and I felt like she was oblivious to quite obvious problems — she lived in her own world and was all 'I need to get famous, famous, famous'. While she does get more likable towards the end, I still didn't like her much. BUT I loved her relationship with her parents. It was nice and I liked how close she was with them. (Family relationships are instant hits for me).
Dillard Early, Jr. made me smile and sniffle at the same time. He tried to look for the good in things despite all the bad weighing him down — he was enlightening and different and wondrous.
The writing is incredible. I loved how well it flowed and there are really no words that can properly say how nice it is. Here's an example:
"I read somewhere that a lot of stars we see don't exist anymore. They've already died and it's taken millions of years for their light to reach Earth," Dill said.
"That wouldn't be a bad way to die," Lydia said. "Giving off light for millions of years after you're gone."
Not even that quote shows the extent of how lovely the writing is. It was gorgeous, it was beautiful, it was spectacular.
If my review hasn't yet convinced you to check out THE SERPENT KING, then that cover should do the trick. If you're still not convinced, then I have a ticket to Panem, and you can have it.
About the Author
Jeff Zentner lives in Nashville, Tennessee. He came to writing through music, starting his creative life as a guitarist and eventually becoming a songwriter. He's released five albums and appeared on recordings with Iggy Pop, Nick Cave, Warren Ellis, Thurston Moore, Debbie Harry, Mark Lanegan, and Lydia Lunch, among others.

Now he writes novels for young adults. He became interested in writing for young adults after volunteering at the Tennessee Teen Rock Camp and Southern Girls Rock Camp. As a kid, his parents would take him to the library and drop him off, where he would read until closing time. He worked at various bookstores through high school and college.

He speaks fluent Portuguese, having lived in the Amazon region of Brazil for two years.