Oddly enough, there's something empowering about a new desktop wallpaper. Especially for someone like me, sitting behind a computer screen pretty much all day long. Paired with quotes from my favorite books, games, and movies, etc? The wallpaper just made itself 100% better. Meet Quote Candy. Basically eye-candy, in the form of a quote and wallpaper.
This week's Quote Candy pick is OUR CHEMICAL HEARTS by Krystal Sutherland, which sounds amazing! I'm on the tour for Krystal's debut, and I'm pleased to share a Quote Candy with a lovely quote from within the pages of the book!
The Quote: "Don't mourn a failed love; there's no such thing."
And now for the wallpaper. Feel free to download it, pin it, share it, and of course, use it!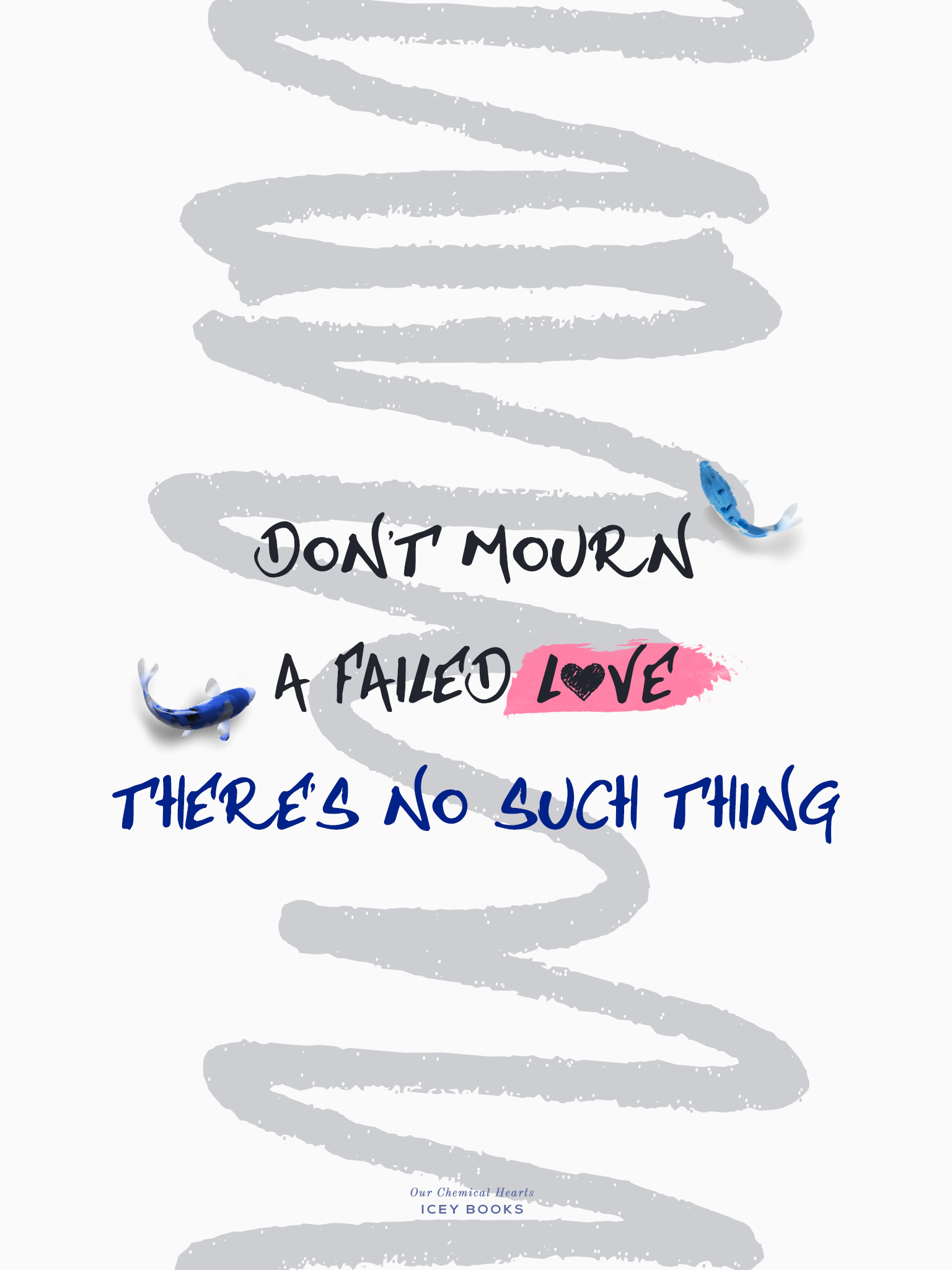 Download it:
Samsung Galaxy | iPhone 5/5S | iPhone 6 | iPad
1280×720 | 1440×900 | 1600×900 | 1920×1080 | 1920×1200 | 2560×1400
About the Book
John Green meets Rainbow Rowell in this irresistible story of first love, broken hearts, and the golden seams that put them back together again.

Henry Page has never been in love. He fancies himself a hopeless romantic, but the slo-mo, heart palpitating, can't-eat-can't-sleep kind of love that he's been hoping for just hasn't been in the cards for him—at least not yet. Instead, he's been happy to focus on his grades, on getting into a semi-decent college and finally becoming editor of his school newspaper. Then Grace Town walks into his first period class on the third Tuesday of senior year and he knows everything's about to change.

Grace isn't who Henry pictured as his dream girl—she walks with a cane, wears oversized boys' clothes, and rarely seems to shower. But when Grace and Henry are both chosen to edit the school paper, he quickly finds himself falling for her. It's obvious there's something broken about Grace, but it seems to make her even more beautiful to Henry, and he wants nothing more than to help her put the pieces back together again. And yet, this isn't your average story of boy meets girl. Krystal Sutherland's brilliant debut is equal parts wit and heartbreak, a potent reminder of the bittersweet bliss that is first love.