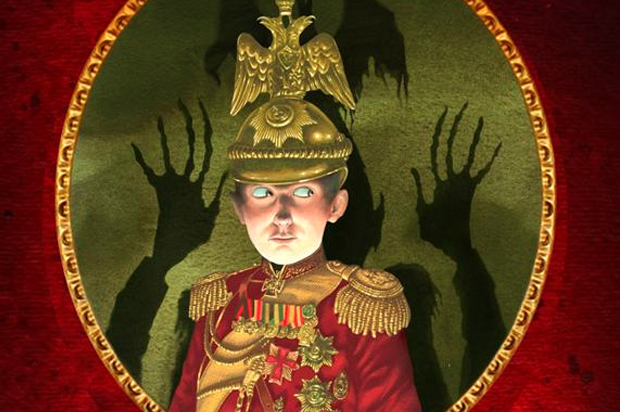 Thanks to our friends at Rockstar Book Tours, we're kicking off the tour for Eugene Yelchin's latest, THE HAUNTING OF FALCON HOUSE. Never heard of it? Then you're in for a treat! Read on for the synopsis, and an exclusive excerpt, plus giveaway!
A long undisturbed bedroom. A startling likeness. A mysterious friend.

When twelve-year-old Prince Lev Lvov goes to live with his aunt at Falcon House, he takes his rightful place as heir to the Lvov family estate. Prince Lev dreams of becoming a hero of Russia like his great ancestors. But he'll discover that dark secrets haunt this house. Prince Lev is the only one who can set them free-will he be the hero his family needs?

Add it to Goodreads
About the Author
Eugene Yelchin is a Russian born author and illustrator of children's books.

In 2012, Breaking Stalin's Nose, a middle grade novel that he had written and illustrated received a Newbery Honor award. Horn Book magazine called Breaking Stalin's Nose one of the Best Books of 2011. In 2010, the picture book Rooster Prince of Breslov that he illustrated received the National Jewish Book Award. In 2006, he received a Tomie de Paola award. His other books received starred reviews, and were on Children's Choice and the Independent Booksellers lists.
Excerpt from pages 8-11:
Klim's chestnut mare flew like the wind. We dashed along snow-coated streets that sparkled like sugar, crossed bridges arching over frozen canals, and passed palaces gleaming with gold. Shops with enormous windows flashed by like tinfoil. The gas lamps had just been lighted, and below the lamps flowed crowds of richly dressed people. Sleighs and carriages I'd never seen the likes of crisscrossed in all directions. The crisp and frosty air rang with crackling whips, ringing bells, and sleigh runners squeaking over the dazzling snow.

At first, snowflakes twirled in the air like feathers, but soon they fell so thick and large that the sky became dark. The gas lamps, the festive crowds, and the vehicles we passed along the way vanished into the rapidly gathering gloom, but Klim's chestnut mare kept at full gallop. At such furious haste, snow began stinging my face while wind was howling in my ears.

It was then that I fancied my mother's arms cradling me under the bearskin covers. "Do not be afraid, Levushka, dear heart," she whispered into my ear softly. "I'm here with you."

"What's wrong, Your Excellency?" I heard Klim's voice. "You're crying."

At the station, Klim had said that I looked like my grandfather, so when I reminded him that he was to deliver me to my aunt's, I tried to speak the way my grandfather might have spoken. "Be so kind, my dear man," I said in a grown-up voice, "as to refrain from needless chatter and carry out my aunt's orders without delay."

Just then, the sleigh skirted something unseen in the dark, its runners grating over the icy road. At the turn, a gust of wind struck me full in the face. I ducked under the bearskin, but with a terrible howl, the wind tore the covers off me. The mare snorted, stopped abruptly, and reared her hind legs. A violent jolt yanked me out of my seat. I smashed into Klim's back, bounced off, and when I scrambled up, the sleigh stood still.
The Giveaway
Thanks to our friends at Henry Holt, one lucky US reader of IceyBooks will take home a finished copy of THE HAUNTING OF FALCON HOUSE! Just fill out the Rafflecopter below.