Oddly enough, there's something empowering about a new desktop wallpaper. Especially for someone like me, sitting behind a computer screen pretty much all day long. Paired with quotes from my favorite books, games, and movies, etc? The wallpaper just made itself 100% better. Meet Quote Candy. Basically eye-candy, in the form of a quote and wallpaper.
Today's Quote Candy is for a fast-paced murder mystery set in Kenya: CITY OF SAINTS AND THIEVES by Natalie C. Anderson! It sounds ridiculously good, and I plan on devouring it soon. Add it to your TBR if you haven't!
The Quote: "People are complicated creatures."
And now for the wallpaper. Feel free to download it, pin it, share it, and of course, use it!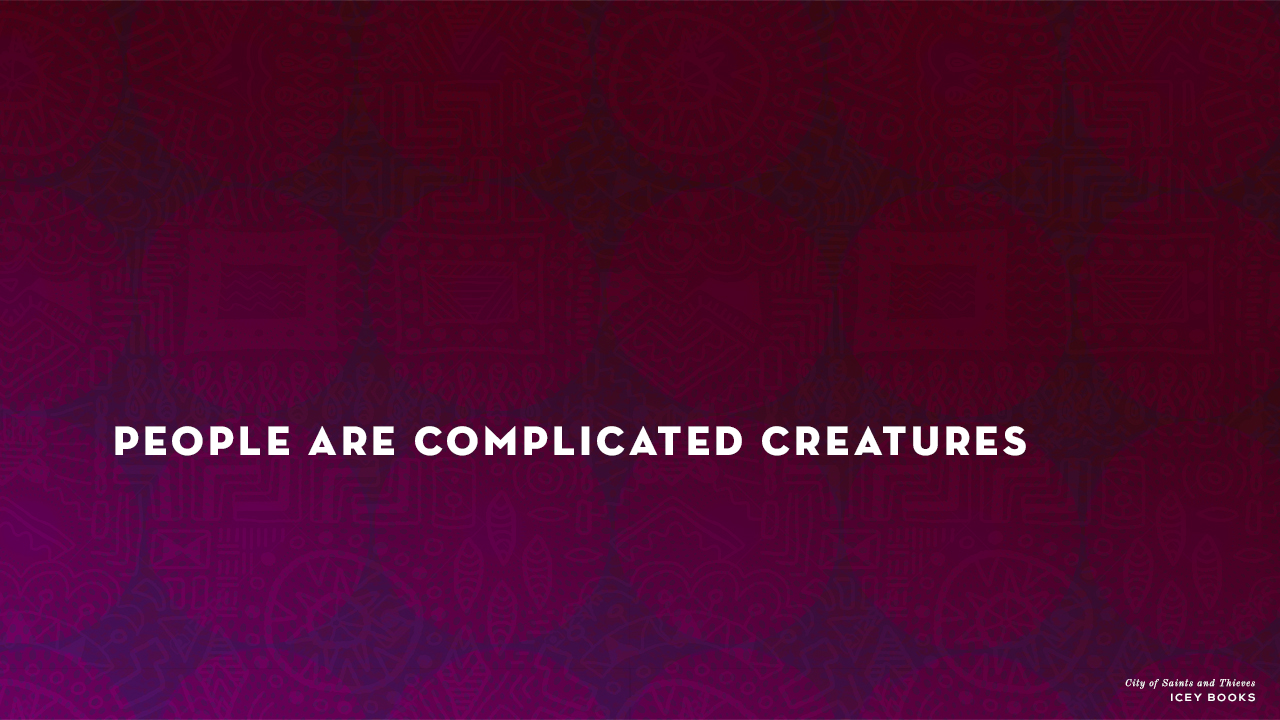 Download it:
Samsung Galaxy | iPhone 6/7 | iPhone 5/5S | iPad
1280×720 | 1440×900 | 1600×900 | 1920×1080 | 1920×1200 | 2560×1400
About the Book
The Girl with the Dragon Tattoo meets Gone Girl in this enthralling YA murder mystery set in Kenya.

In the shadows of Sangui City, there lives a girl who doesn't exist. After fleeing the Congo as refugees, Tina and her mother arrived in Kenya looking for the chance to build a new life and home. Her mother quickly found work as a maid for a prominent family, headed by Roland Greyhill, one of the city's most respected business leaders. But Tina soon learns that the Greyhill fortune was made from a life of corruption and crime. So when her mother is found shot to death in Mr. Greyhill's personal study, she knows exactly who's behind it.

With revenge always on her mind, Tina spends the next four years surviving on the streets alone, working as a master thief for the Goondas, Sangui City's local gang. It's a job for the Goondas that finally brings Tina back to the Greyhill estate, giving her the chance for vengeance she's been waiting for. But as soon as she steps inside the lavish home, she's overtaken by the pain of old wounds and the pull of past friendships, setting into motion a dangerous cascade of events that could, at any moment, cost Tina her life. But finally uncovering the incredible truth about who killed her mother—and why—keeps her holding on in this fast-paced nail-biting thriller.
The Giveaway
Enter for a chance to win one of five (5) finished copies of City of Saints and Thieves by Natalie Anderson (ARV: $18.99).
NO PURCHASE NECESSARY. Enter between 12:00 AM Eastern Time on January 16, 2017 and 11:59 PM on February 3, 2017. Open to residents of the fifty United States and the District of Columbia who are 13 and older. Winners will be selected at random on or about February 8, 2017. Odds of winning depend on number of eligible entries received. Void where prohibited or restricted by law.