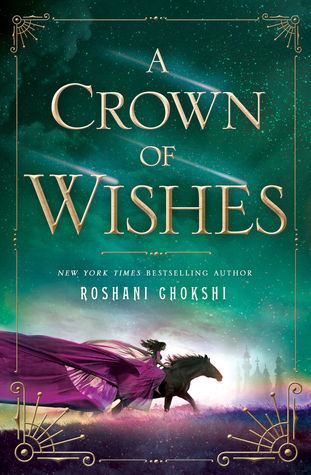 A CROWN OF WISHES
Roshani Chokshi
352 pages
Publisher: St. Martin's Griffin
Release Date: March 28th, 2017
Source: eARC
Rating: REALLY LIKED
Gauri, the princess of Bharata, has been taken as a prisoner of war by her kingdom's enemies. Faced with a future of exile and scorn, Gauri has nothing left to lose. Hope unexpectedly comes in the form of Vikram, the cunning prince of a neighboring land and her sworn enemy kingdom. Unsatisfied with becoming a mere puppet king, Vikram offers Gauri a chance to win back her kingdom in exchange for her battle prowess. Together, they'll have to set aside their differences and team up to win the Tournament of Wishes—a competition held in a mythical city where the Lord of Wealth promises a wish to the victor.

Reaching the tournament is just the beginning. Once they arrive, danger takes on new shapes: poisonous courtesans and mischievous story birds, a feast of fears and twisted fairy revels.

Every which way they turn new trials will test their wit and strength. But what Gauri and Vikram will soon discover is that there's nothing more dangerous than what they most desire.
Once again, Roshani Chokshi creates a stunningly beautiful world full of magic, beauty, and poison.
A CROWN OF WISHES sets a much faster pace than THE STAR-TOUCHED QUEEN and every page is wrought with suspense and wit. From the start, we're thrust into Gauri's world of politics and betrayals and I loved every second of it.
The relationship between Gauri and Vikram is one of my favorites. Gauri is sarcastic, stubborn, and fiercely independent; Vikram is charming, cunning, and incredibly perceptive. Together, THEY ARE PERFECT AND HILARIOUS AND ALL THINGS LOVEABLE. (I just really love hate-to-love relationships).
If there's one thing Roshani Chokshi does better than anyone else, it's descriptions. I was salivating at the tantalizing description of the rows of food found in Roshani's latest book. And the world-building! It was so easy to picture the palaces and people/creatures. I was immersed, and it was magical.
I loved all the side characters and found myself rooting for their own causes because they were all so realistic and their stories were incredibly beautiful. Now that I think about it, if I had to choose three words to describe any book by Roshani, it would be lush, magical, and beautiful.
The only downside for me, and the main reason I'm not full-out gushing and falling head over heels, would be that I don't like super long descriptions. AKA purple prose. I have a very short attention span and when something starts to drag on, I lose interest. Fancy words tend to bore me and I start putting off the book. I really liked A CROWN OF WISHES, but it took me nearly a month to finish because the descriptions kept putting me off and subsequently slowing me down.
I know, this is getting confusing because I like the descriptions, but sometimes I feel like they could've been cut shorter and the same message would've been sent across just as beautifully.
A CROWN OF WISHES ended on the perfect note and that's all I'm going to say about that. If you haven't read either of Roshani's books, now would be a good time to start and lemme tell you — YOU WILL NOT BE DISAPPOINTED.
To sum A CROWN OF WISHES in three GIFS: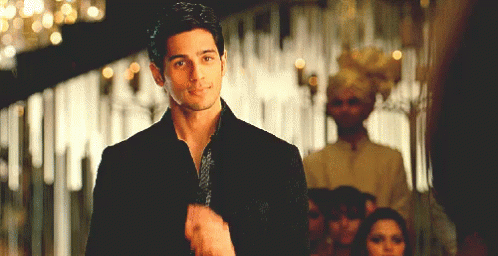 About the Author
Roshani Chokshi is the New York Times bestselling author of The Star-Touched Queen and the upcoming A CROWN OF WISHES, releasing March 28, 2017. Her work has appeared in Strange Horizons, Shimmer, and Book Smugglers. Her short story, "The Star Maiden," was longlisted for the British Fantasy Science Award.