WHEN DIMPLE MET RISHI
Sandhya Menon
320 pages
Publisher: Simon Pulse
Release Date: May 30th, 2017
Source: eARC
Rating: LOVED
A laugh-out-loud, heartfelt YA romantic comedy, told in alternating perspectives, about two Indian-American teens whose parents have arranged for them to be married.

Dimple Shah has it all figured out. With graduation behind her, she's more than ready for a break from her family, from Mamma's inexplicable obsession with her finding the "Ideal Indian Husband." Ugh. Dimple knows they must respect her principles on some level, though. If they truly believed she needed a husband right now, they wouldn't have paid for her to attend a summer program for aspiring web developers…right?

Rishi Patel is a hopeless romantic. So when his parents tell him that his future wife will be attending the same summer program as him—wherein he'll have to woo her—he's totally on board. Because as silly as it sounds to most people in his life, Rishi wants to be arranged, believes in the power of tradition, stability, and being a part of something much bigger than himself.

The Shahs and Patels didn't mean to start turning the wheels on this "suggested arrangement" so early in their children's lives, but when they noticed them both gravitate toward the same summer program, they figured, Why not?

Dimple and Rishi may think they have each other figured out. But when opposites clash, love works hard to prove itself in the most unexpected ways.
BUY THE BOOK
Add it to Goodreads
WHEN DIMPLE MET RISHI is an incredible debut that had me laughing, groaning in frustration, and rooting for our adorable characters. Seriously, there has never been a cuter cast of characters.
From the start, I fell in love with this book and Dimple's sarcastic take on things. This is the first time I've actually been able to really connect with a character. I've read contemporaries where I can relate in characteristics to main characters but never have I ever related to a character's life. Except for now. This is the magic of diverse reads.
From Salwar Kameez to kurta tops and roti to chai and the beloved Parle-G. I actually paused for a moment when I read Parle-G. I don't even like the Indian biscuit that much but we still manage to have a packet of it in our house every day.
I LOVED the contrast between Dimple and Rishi. Dimple is sarcastic, techy, and all around modern. She loves her family, but at the same time can't wait to get away from her mother's constantly judging eye. Rishi is honest, artsy, and values tradition above everything else. Not to mention that he'd do anything to please his parents.
THEY WERE SO ADORABLE TOGETHER, MY POOR HEART STILL CAN'T HANDLE IT.
The story is told from both Dimple's and Rishi's points of view. I really can't pick a favorite because of how different their voices were and their take on things. I especially loved how big Rishi was on his culture and how he didn't shy away from it.
Insomnia Con was another thing I really loved, I thought it was super interesting and I loved seeing Dimple and Rishi work together to compete their project. It was unique and I just really like it when they spent time together, okay?
The side characters were all equally fabulous. Celia, Dimple's roommate, was a super cheery girl I loved from the start. While I did end up liking Rishi's younger brother, he annoyed me immensely in the beginning. I LOVED Dimple's parents and how understanding Rishi's parents were.
WHEN DIMPLE MET RISHI is an amazing diverse read that I recommend with all my heart. It was beautiful from start to finish and I have a feeling you won't be disappointed.
To sum WHEN DIMPLE MET RISHI in three GIFS: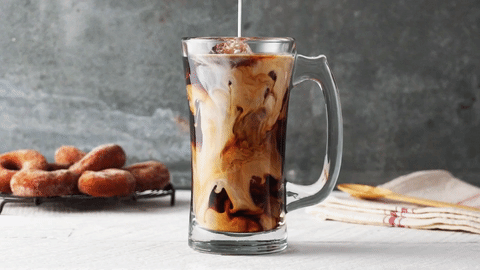 About the Author
Sandhya Menon is the author of When Dimple Met Rishi. She was born and raised in India on a steady diet of Bollywood movies and street food, and blames this upbringing for her obsession with happily-ever-afters, bad dance moves, and pani puri. Now she lives in Colorado, where she's on a mission to (gently) coerce her husband and children watch all 3,220 Bollywood movies she claims as her favorite.