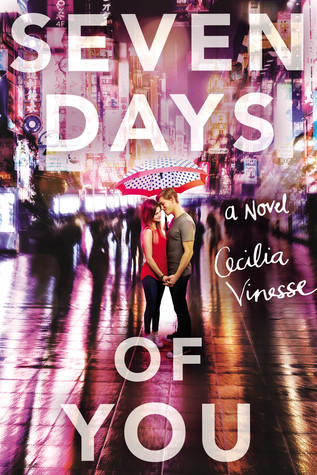 SEVEN DAYS OF YOU
Cecilia Vinesse
336 pages
Publisher: Little Brown
Release Date: March 7th, 2017
Source: eARC
Rating: LIKED
Sophia has seven days left in Tokyo before she moves back to the States. Seven days to say good-bye to the electric city, her wild best friend, and the boy she's harbored a semi-secret crush on for years. Seven perfect days…until Jamie Foster-Collins moves back to Japan and ruins everything.

Jamie and Sophia have a history of heartbreak, and the last thing Sophia wants is for him to steal her leaving thunder with his stupid arriving thunder. Yet as the week counts down, the relationships she thought were stable begin to explode around her. And Jamie is the one who helps her pick up the pieces. Sophia is forced to admit she may have misjudged Jamie, but can their seven short days of Tokyo adventures end in anything but good-bye?
There's just something incredibly lovely about reading a contemporary book after devouring intense fantasy and hearing constantly saddening news. It's refreshing and happy-making (and since I don't read that much contemporary, my standards for good contemporary are fairly low so pretty much any light contemporary makes me happy).
SEVEN DAYS OF YOU was a novel I adored and the fact that it was set in Tokyo, a place I hope to visit someday, made me crazy happy. It was nice and the food had me drooling, it wasn't so much as the description but their constant appearance on every page. It had me starving.
So why am I not fully in love with SEVEN DAYS OF YOU? There were times when I felt like the main character, Sophia, sounded or acted super young. Her thoughts would take on a childish angle… and it kind of ruined the moment, several times in fact.
Aside from that, Sophia was a character I really loved and I also liked her relationship with her mom and sister. BECAUSE SHE ACTUALLY TALKS WITH HER MOM. There's none of that slipping out of the house without permission and being mean/shouting at your mom and I loved it because it's the first time I've ever truly related to a character's relationship with a parent. While I can't really relate to the sister relationship (we fight but not every. single. day.) I still loved the insults they lobbed at each other.
Her friends, Mika and David, were another whirlwind of trouble and I'm actually still not sure how I feel about them. They were super awful to the main character at times and jerks to everyone at other times but at the same time they were lovable and funny and caring. But mostly jerks. Weird, I know.
And Jamieeeeeeeeeee. Adorable sorta-hipster dude who was incredibly dorky. Who made references to LoTR and other movies that had me grinning. I really can't find a flaw in him and he's one of the characters I loved from the start.
The ending was perfect, not too happy and not too sad, but just right. Though Sophia didn't exactly straighten out all her problems by the end, which irked me a little because YOU STILL HAVE TO FIX SOME THINGS, GIRL.
SEVEN DAYS OF YOU was a debut that had its flaws but still I loved and enjoyed it from start to finish— it's a novel about saying goodbye and one I will remember for years to come.
To sum SEVEN DAYS OF YOU in three GIFS: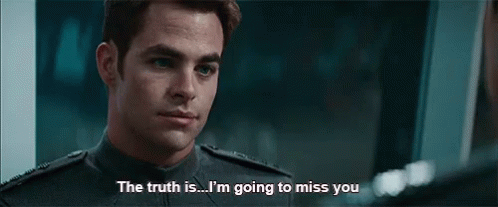 About the Author
Cecilia Vinesse was born in France but grew up between Tokyo, Japan and Greenville, South Carolina. Her obsession with Nora Ephron movies led her to New York City to attend Barnard College and then to live in New York for three years afterward, working in children's book marketing and living in an apartment furnished mostly by stacks of novels. Now she's in a small Edwardian house in England where she splits her time holding late-night writing sessions, daydreaming in libraries, and having Buffy the Vampire Slayer marathons with her girlfriend Rachel and a pup named Malfi. She writes books about teenagers who wander around cities and fall in love and eat really delicious food. Her debut novel, SEVEN DAYS OF YOU, will be published by Little, Brown Books for Young Readers in the U.S. and U.K. in 2017.